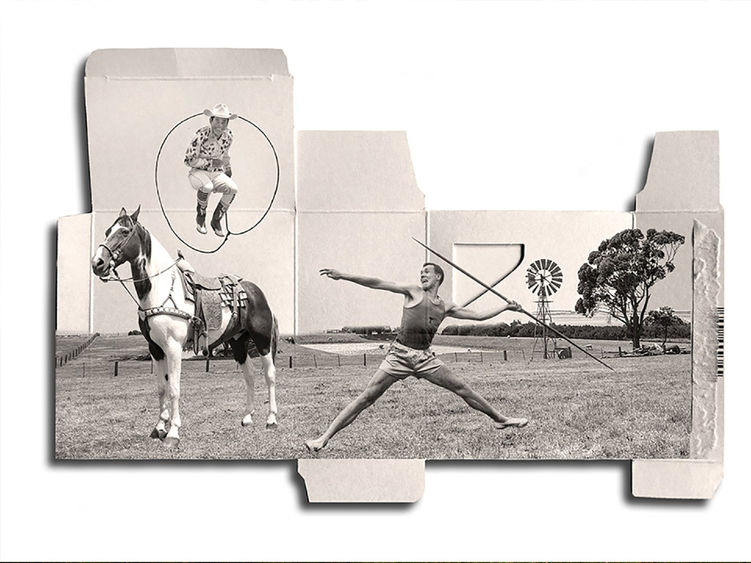 ABINGTON, Pa. — Private collections worldwide feature work by Walter Plotnick, a digital photography instructor in the art program at Penn State Abington, and his photo-based art has been the focus of national and international solo exhibitions and media coverage. Recently, a six-page spread of his assemblages, or visual narratives, appeared in the prestigious Italian magazine Gente di Fotografia, issue No. 78. 
His current work is a hybrid of wet photography and digital process, and his major series have included the 1939 World's Fair, abstract photograms, and 1930s circus performers. 
"I'm most influenced by Modernist, Constructivist, and Bauhaus artists. Man Ray is also a huge inspiration, as well as certain American artists like Joseph Cornell, who created shadowboxes and was self-taught," Plotnick said. 
Through Jan. 15, 2023, Plotnick's photography is included in the annual juried exhibition Art of the State at The State Museum of Pennsylvania in Harrisburg. He is also preparing for a 2024 solo exhibition in Belgium. 
The roots of Plotnick's practice date to the age of 13 when his father, an amateur photographer, set up a makeshift darkroom in the family's basement. 
"I would shoot and process the film, and I've been doing it as long as I can remember," he said. 
After completing his bachelor's and master's degrees in fine arts locally, he worked for two decades as a commercial photographer out of studios in downtown Philadelphia and in South Philadelphia, shooting for fashion, food, and other clients. 
"After many years, I decided to go back and make art and do what I love about photography. Around that time, in 2005, I came to Abington. I sell my art internationally, and I've had nice success," he said.  
Plotnick's experience in commercial photography influences his work with Abington students.  
"Oftentimes, my students have part-time jobs so I gear some of my assignments toward commercial photography. They might be able to complete the assignment at their job, or they can use the skills I teach them to approach businesses to help with their photography needs," he said.  
"My assignments are geared to develop the students' eye, learn about composition and contrast, and then toward the end of the semester I tell them to go out and pitch their photography to businesses," he said.   
Plotnick finds a different kind of fulfillment from teaching as opposed to creating his personal work. 
"I get the most satisfaction when students see something in an image that I have never seen. All my students get the same assignment, yet they all interpret it differently, and when we critique work, it's fascinating to see how they interpret it," he said.  
About Penn State Abington 
Penn State Abington provides an affordable, accessible and high-impact education resulting in the success of a diverse student body. It is committed to student success through innovative approaches to 21st-century public higher education within a world-class research university. With more than 3,000 students, Penn State Abington is a residential campus that offers baccalaureate degrees in 24 majors, undergraduate research, the Schreyer Honors Program, NCAA Division III athletics and more.