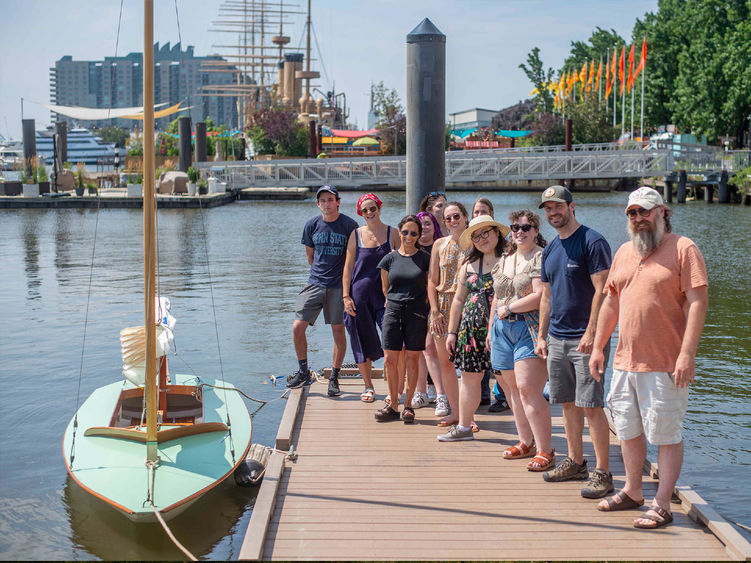 ABINGTON, Pa. — Eight Penn State Abington art students recently completed a yearlong project building a wooden boat with historic local design origins in collaboration with the Independence Seaport Museum in Philadelphia. Students built the 12-foot duckboat, named Squonk, out of cedar and mahogany at the museum.
Duckboats or sneakboxes were traditionally used in the Philadelphia region and along the New Jersey coast. They are low-profile, single-person rowboats designed for duck hunting in shallow marshlands. The design evolved to include a basic sailing rig to bring game to market quickly, which led to designs for faster and faster boats, and a culture of racing was quickly established.
According to H. John Thompson, associate teaching professor of art, duckboats were once a young person's first sailboat. 
"They learned the physics of sailing and boat maintenance with a duckboat so it's a fitting project for Abington students as they learn about the waterways in the region via a multitude of disciplines through the lens of the rich craft of wooden boatbuilding," he said. 
The students enrolled in four three-credit courses, which were co-taught by Thompson and Bonnie Levinthal, professor of art, in collaboration with David Dormond, assistant director and shop educator in the museum's Workshop on the Water at Penn's Landing. 
The students performed all of the tasks to complete the build, including cutting and steam bending the wooden planks, lofting (translating a blueprint into a full-scale drawing to reference throughout the build) and spiling (accurately measuring the planks they needed for the bottom of the boat). 
The students documented their progress on blogs and in detailed journals to help them unpack and reflect on the process. 
Junior Sam Feather found that he learned individual things, he said, but there were larger, more valuable lessons that he took away from the project.
"I've learned to look and observe with different perspectives, so that maybe I could see something that I otherwise would have missed," he said. 
The duckboat will be on display alongside student journals, related creative works and a video documenting the process in the campus art gallery from Sept. 12 through Nov. 18.  An opening reception is scheduled for Sept. 18 from 12:20 p.m. to 1:10 p.m. 
After the gallery show ends, the boat will be donated to the museum collection to support its educational programming. 
The boatbuilding courses and related programs were supported by a Teaching Innovation Grant from the University's Schreyer Institute for Teaching Excellence, a Seeding Change Grant from The Penn State Center in Philadelphia, and the Penn State Humanities Institute. Support from Abington included a Chancellor's Grant funded by the Albert and Suzanne Lord Chancellor Endowment, a Faculty Development Grant, the Abington Division of Arts and Humanities, the campus art gallery, and the Abington Student Initiated Fee Fund. 
About Penn State Abington 
Penn State Abington provides an affordable, accessible and high-impact education resulting in the success of a diverse student body. It is committed to student success through innovative approaches to 21st-century public higher education within a world-class research university. With more than 3,000 students, Penn State Abington is a residential campus that offers baccalaureate degrees in 24 majors, undergraduate research, the Schreyer Honors Program, NCAA Division III athletics and more.