Penn State Harrisburg served as a host site for the Summer Institute for Equity in the Academic Experience, which focused on advancing academic equity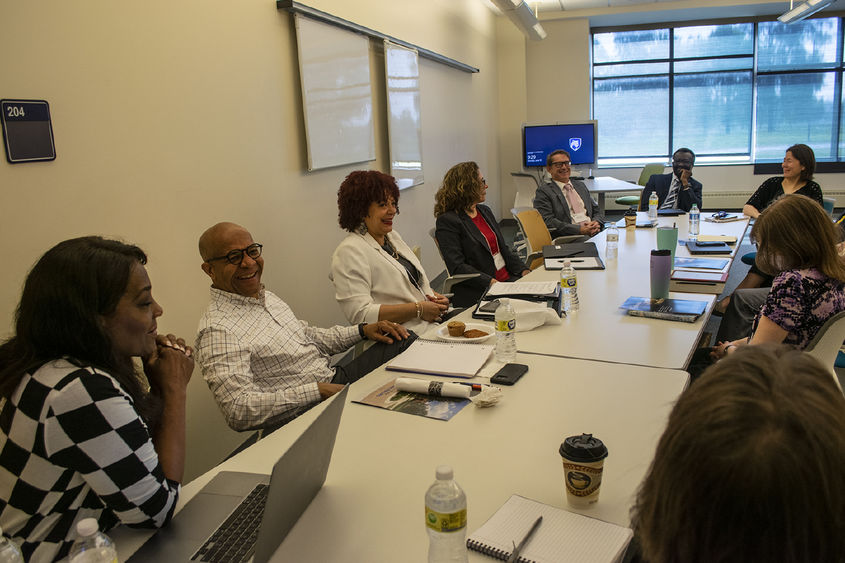 HARRISBURG, Pa. — The 2022 Summer Institute for Equity in the Academic Experience held in June saw 16 teams across Penn State colleges and campuses, as well as seven teams from regional colleges and universities, gather in person at Penn State Harrisburg and virtually to focus on expanding access and advancing academic equity at their institutions.  
The Summer Institute was coordinated by Georgetown University, Xavier University of Louisiana, the American Talent Initiative (ATI), and ATI's members and partners who are committed to improving equitable outcomes for low-income, first-generation and students of color at their institutions. 
Roderick Lee, associate professor of information systems at Penn State Harrisburg and a member of the American Talent Initiative Summer Institute Leadership Advisory Board, said the energy, enthusiasm and interest were high over the course of the three days. 
"I had the chance to visit with each team and walk around during the event, and the energy level was extremely high," Lee said. "The teams that were there in person appreciated the chance to come together and engage in conversations on advancing academic equity. Often, we hear that people don't typically have structured time and space to do this kind of work." 
Each participating team was encouraged to "come with a goal, leave with a plan" related to equity in the academic experience at their own university, college or campus. Teams could participate either virtually or in person, and many teams opted for the latter. 
Host sites across the U.S. were connected to one another through virtual sessions, including provocations, workshops and roundtables, attended by the entire Summer Institute. Throughout the day, time also was allotted for structured team time, professional coaching and networking opportunities. 
Penn Staters contributed to several activities, such as a roundtable on bias reporting and racial and ethnic justice transitions, hosted by faculty and staff at Penn State Brandywine. Penn Staters from several units and colleges presented a workshop on using data to identify interventions and increase retention. Additionally, a staff member served as a professional coach for the Summer Institute. 
Out of the 11 college and university host sites nationally, Penn State Harrisburg drew the largest number of teams with 23, and more than a third of all individual attendees of the Summer Institute across the nation.  
"I think Penn State, and the Harrisburg campus specifically, changed the national conversation on how we will approach the Summer Institute in the future," Lee said. 
Participating Penn State teams were from: 
Penn State Abington 

Penn State Berks 

Penn State Brandywine 
Penn State College of Medicine 

Penn State Dickinson Law 

Penn State Harrisburg 

Penn State University Park 

Penn State World Campus 
Heidi Elmendorf, associate professor of biology at Georgetown University and director of the Hub for Equity in Education, said Penn State Harrisburg's participation and leadership was important, especially since colleges and universities often center efforts like the Summer Institute at their flagship campuses. 
"Because educational inequities are a system problem, the most impactful and durable solutions will need to be system-wide solutions," Elmendorf said. "Equity work, and the people who do it, are often marginalized and isolated at the periphery of education. Under Roderick's leadership, Penn State University flipped that narrative for the institute." 
With the Summer Institute now over, teams returned to their home institutions to either implement their equity projects or continue refining them until they are mature enough for implementation.  
For Penn State Harrisburg, this means refining and implementing two projects: 
Remove structural and systemic barriers, and create accessible pathways to improve equitable outcomes.  

Attract, prepare and retain diverse K-12 teacher education candidates. 
Other Penn State campuses, colleges and units will implement their own projects, such as Penn State Abington's ongoing efforts to enhance the campus culture related to diversity, equity and inclusion. 
Jeff Adams, associate vice president and senior associate dean for Penn State Undergraduate Education, praised both the leadership of organizers and the teams themselves for making progress on their individual goals. 
"I could not have been more impressed by how all the teams, including many from Penn State, came prepared to engage in this important work as part of a long-term commitment to working toward a future of equity across the academic experience," Adams said. 
Next, the American Talent Initiative and its partner institutions will develop year-round communities of practice that will continue the collaborative spirit of the Summer Institute. Lee added that planning for the next Summer Institute in 2023 will start this September. 
In addition to Penn State Harrisburg, Georgetown University and Xavier University of Louisiana, the 2022 Summer Institute on Equity in the Academic Experience was hosted by the American Talent Initiative and the following leadership sites, which shared responsibility for the planning and programming: Claremont-McKenna College, George Mason University, Ohio State University, Princeton University, Rutgers University-New Brunswick, the University of Iowa, the University of the Pacific, and the University of Pittsburgh. 
Inclusion, equity and diversity efforts are one of the foundations of Penn State's Strategic Plan, and touch on many aspects of the Undergraduate Education Strategic Plan.  
Penn State's participation in the Summer Institute was coordinated by Penn State Harrisburg, Undergraduate Education, the Office of the Vice President for Commonwealth Campuses, and the Office of Educational Equity.