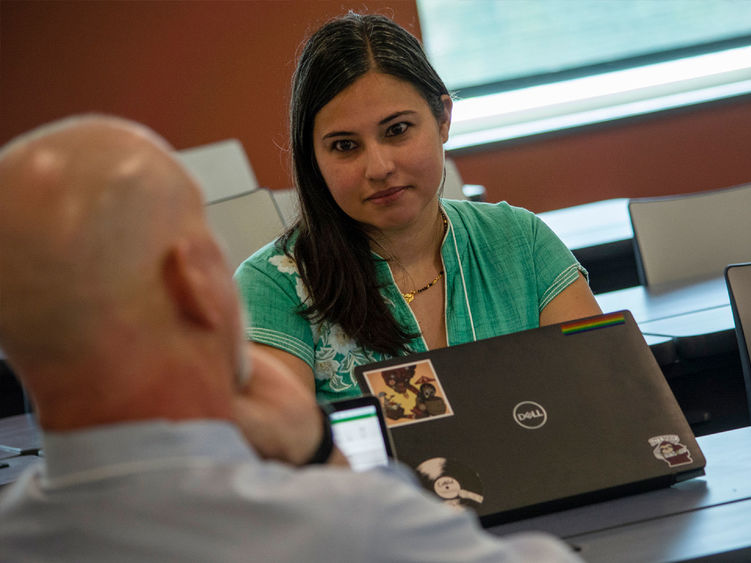 ABINGTON, Pa. — Penn State Abington's chancellor was joined this week by key faculty and staff at the national 2022 Summer Institute for Equity in the Academic Experience to advance ongoing efforts to enhance the campus culture related to diversity, equity and inclusion.  
"Our goal is to ensure that the diversity in voice and perspective of our student body is reflected across operations, from the classroom to the corridor, to the cafeteria, and beyond," Chancellor Margo DelliCarpini said. 
A diverse group from more than 50 higher education institutions across the United States attended the three-day conference. The working institute abides by the motto "Come with a goal, leave with a plan," and each team tackled a meaningful equity project linked to their institutional strategic plan with the support of coaches and programming. 
Abington was represented by DelliCarpini; Boni Wozolek, team lead and assistant professor of education; Karen Gould, director of counseling and psychological services; Randy Ingbritsen, assistant director of continuing education; Grace Lee-Amuzie, assistant teaching professor of applied linguistics; and Chris Walters, coordinator for student success. 
"This work represents an important step toward achieving our strategic diversity, equity and inclusion goals. We are furthering our anti-racist, inclusive, diverse and equitable campus climate," Wozolek said.  
The Abington team has taken its overarching project and broken it into three categories: recruitment and retention of administration, faculty, staff and students; professional development and leadership development; and an examination of policies and procedures.  
Within each category, there are subgoals and proposed action items including: 
Identifying indicators of success or concern for students so that disaggregated data can be collected and made available across division and program levels with the goal of engendering new and maintain existing pathways to graduation for students. 

Developing equity-minded search guidelines to inform hiring practices and support accountability across units. 
Developing a multistream administration, faculty and staff development model that would provide space to develop DEI competencies, participate in high impact practices across units, and provide pathways to leadership opportunities for professional and personal growth. 

Reviewing current policies and procedures to support equity and access in the written language and understand how those policies and procedures impact marginalized students, staff, faculty and administration. This includes reviewing existing policies and considering which policies and procedures are absent or could be strengthened by a rigorous review process.  
This year's institute was co-hosted by Georgetown University, Xavier University of Louisiana and the American Talent Initiative. The institute's thematic priorities — expanding the ecosystem, mapping strategic process and integrating campus conversations — highlight three challenges in making higher education more equitable: institutional isolation, campus disconnection and the problem of working in silos.    
About Penn State Abington 
Penn State Abington provides an affordable, accessible and high-impact education resulting in the success of a diverse student body. It is committed to student success through innovative approaches to 21st-century public higher education within a world-class research university. With more than 3,000 students, Penn State Abington is a residential campus that offers baccalaureate degrees in 23 majors, undergraduate research, the Schreyer honors program, NCAA Division III athletics and more.