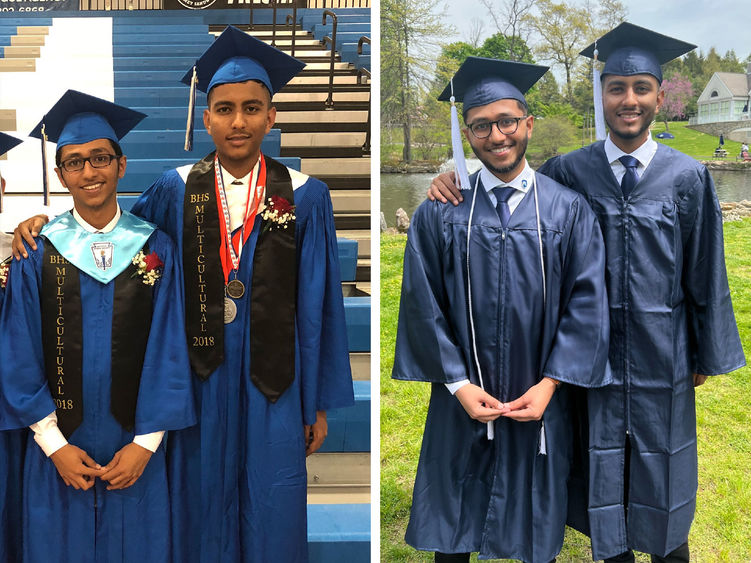 ABINGTON,Pa. — Two new Penn State Abington graduates share a bond that has taken them from their teenage years to the launch of their careers. 
Avi Patel and Dhruv Parekh met in 10th grade when they lived in the same apartment complex and attended Bucks County's Bensalem High School. They discovered a mutual interest in technology and later enrolled at Abington, majoring in information sciences and technology (IST) with a focus on integration and application.  
They chose to attend Abington due to the stellar reputation of its IST program and its location near their hometown.  
"We knew past graduates and had many friends who studied information technology at Abington, so that's how we wound up here," Patel said. 
The pair were in most classes together thanks to the small class sizes at Abington, including IST 497: Gaming in Scotland, a course this spring that included an international travel component to Abertay University, home of the United Kingdom's premier video game program. They worked on developing a prototype game with a multidisciplinary team of Abington and Abertay students. 
"It was an incredible learning experience," Parekh said. 
Their lock-step journey through higher education continued when they were named the joint recipients of the Dr. Harvey S. and June T. Koch Scholarship, which is awarded to outstanding IST students who volunteer in activities such as mentoring, community service, or on campus student life.  
Both were employed by the Office of Information Technology as help desk assistants, working up to 20 hours per week, including through the pandemic, to support faculty, staff and students. They also joined the Cybersecurity Club and the South Asian Students Association. 
They honed their professional skills through separate internships and are preparing to enter the professional world.  
Patel secured an internship at Independence Blue Cross as a reporting and analytics intern and had previously gained experience as an identity and access management intern at a mortgage company. He will soon be moving to Wisconsin for his first job at American Family Insurance Co. 
Parekh interned as a global technology operations intern at Vanguard, and he will begin a full-time position there in August in the firm's Technology Leadership Program. 
About Penn State Abington 
Penn State Abington provides an affordable, accessible and high-impact education resulting in the success of a diverse student body. It is committed to student success through innovative approaches to 21st-century public higher education within a world-class research university. With more than 3,000 students, Penn State Abington is a residential campus that offers baccalaureate degrees in 23 majors, undergraduate research, the Schreyer honors program, NCAA Division III athletics and more.