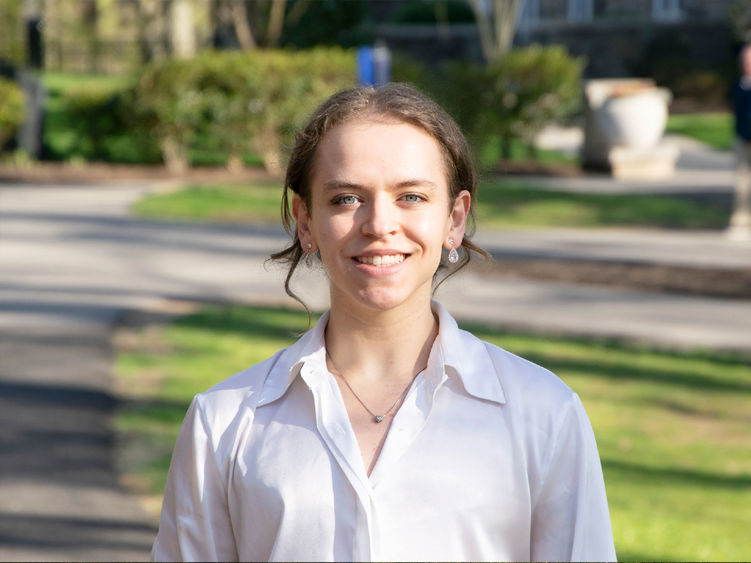 ABINGTON, Pa. — In just three semesters at Penn State Abington, Angelea Francesco has made such an outsized impact that she was selected for the University's prestigious Eric A. and Josephine S. Walker Award. The honor recognizes a student whose character, scholarship, leadership, and citizenship have been directed into programs and services that have positively influenced other students and have contributed to the prestige and well-being of the campus and to the reputation of the University. 
Francesco, a junior, is a top student in the rehabilitation and human services (RHS) major and earned a certificate in chemical dependency prevention and counseling.  
Michael Lavetsky, chair of the RHS program, was one of several faculty and staff who nominated her for the Walker award. 
"Since the first day I met Angelea, I could tell that this student was special and that she demonstrated academic ability, enthusiasm, motivation, and leadership that far exceeded her peers," he said. 
Francesco, who identifies as trans, came to Abington as a transfer student in spring 2021 and dived right into the campus and Penn State communities.  
"I was so excited to come to Abington, where I felt immediate connections with other students, and there is so much to do. I've never felt so comfortable before," she said. 
Francesco serves as a peer counselor, who is trained in basic counseling skills and is supervised by the licensed mental health professionals from the campus' Counseling and Psychological Services (CAPS).  
"Support systems are so vital for everyone, whether you're actively struggling or not, so the idea of being a resource for students who could use someone in their corner is really appealing to me. Being on this team, connecting with folks, and building a strong community really drew me to peer counseling," Francesco, who also coordinates marketing for CAPS, said.  
"Angelea has been able to connect with students from diverse backgrounds, genders, and cultures in a remarkable way," Lavetsky, who helps train the highly selective peer counseling team, said. 
Francesco praised members of the campus community for serving as mentors to her, including Lavetsky and Karen Gould, director of CAPS. 
"Karen wants to see people succeed, and she is used to seeing people in vulnerable spaces. She is always willing to see me and hear my story and where I want to go," she said. 
I want to honor who I am and what I want to do.

—Angelea Francesco
Francesco works remotely for the Penn State Hershey Medical Center's gender health clinic team, which provides trans-affirming care for adolescents and adults. As an undergraduate research assistant, she performs retrospective chart reviews.  
"I pull out information to develop databases so we can analyze and publish findings. We are working on two projects right now, one is on self-perception, and how patients perceive themselves, their bodies, their gender, and their sexuality. The other focuses on their stories and backgrounds and how they came to understand their stories," she said. 
This summer Francesco will relocate to Nashville for two months for a highly competitive internship she secured at Vanderbilt University Medical Center.  
"I will be working conducting research and outreach in the LGBTQ health program. It's something I've wanted for a long time; it's a really well-developed program," she said. 
Previously, Francesco shadowed a community health manager at a hospital near her hometown in the Pocono Mountains. She attended public health meetings while advertising and organizing mailings for a program for people living with a combination of food insecurity and chronic health issues, researching nutrition values for a weekly podcast, and completing suicide intervention training.  
Francesco's friends who identify as queer and transgender inspire much of her work along with those who live with disabilities, she said.
"I feel strongly and have a deep connection to my passion for public health. I look at things that affected my family and loved ones. Even though I grew up in rural and conservative areas, I was still exposed to progressive and social justice issues. I was influenced by a lot of very progressive people growing up including my mother who is a teacher," she said. 
As Francesco inches closer to graduating from Abington next spring, she aspires to earn a doctorate, possibly in public health.  
"I have a direction, but I'm feeling out exactly what I want. I want to honor who I am and what I want to do," she said. 
About Penn State Abington 
Penn State Abington provides an affordable, accessible and high-impact education resulting in the success of a diverse student body. It is committed to student success through innovative approaches to 21st-century public higher education within a world-class research university. With more than 3,000 students, Penn State Abington is a residential campus that offers baccalaureate degrees in 23 majors, undergraduate research, the Schreyer honors program, NCAA Division III athletics and more.