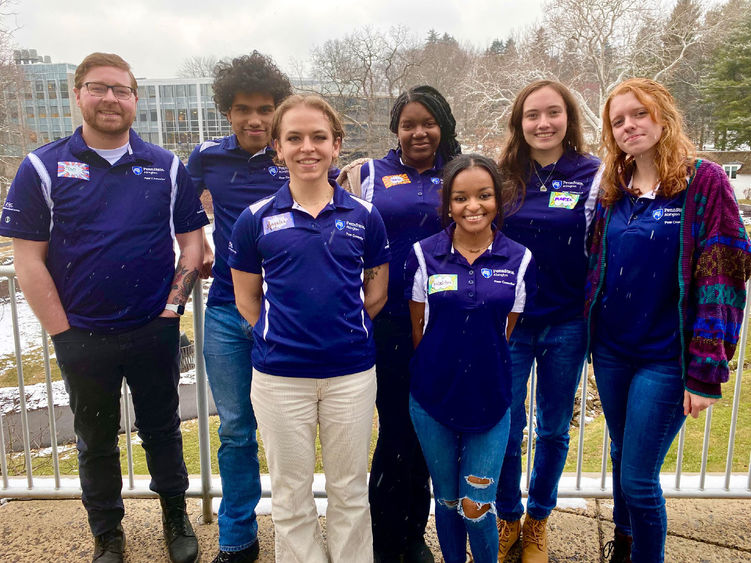 ABINGTON, Pa. — The Penn State Abington peer counseling program offers students a safe and inclusive space to discuss concerns with other students who are trained in basic counseling skills and are supervised by licensed mental health professionals from the campus' Counseling and Psychological Services (CAPS).
The free and confidential program was developed through a partnership between CAPS staff and faculty in the Rehabilitation and Human Services (RHS) major. Peer counselors attend a three-credit RHS seminar as well as a five-hour advanced training led by a licensed therapist who specializes in individual and group clinical supervision. 
Karen Gould, a licensed psychologist and the director of CAPS, manages the peer counselors. 
"We meet with peer counselors to practice skills and deal with theory. We have ongoing training initiatives, and every week we review case studies to give the peer counselors strategies for dealing with them," she said. 
"The peer counselors are part of the fabric of Penn State Abington, and they understand Abington as an institution," she continued. 
Angelea Francesco, a junior RHS major, became a peer counselor because she wanted to be part of a group that supports others.  
"Support systems are so vital for everyone, whether you're actively struggling or not, so the idea of being a resource for folks on campus who could use someone in their corner was really appealing to me. Being on this team, connecting with folks, and building a strong community, too, really drew me to peer counseling," Francesco said. 
Molaea-Rene Goodman, a junior psychological and social sciences major, joined peer counseling to help the community in a positive way.  
"I think the mental health of the students at any institution should be of importance. This role gives me the opportunity to be someone who can be of support to someone in need," she said. 
For senior RHS major Joe O'Brien, peer counseling offered the opportunity to get involved at Abington while allowing him to refine skills vital for a career in a helping profession. 
"I believe peer counseling would have been greatly beneficial when I first had to face the challenges college can present, so I am extremely happy to be able to join this program and support my peers," he said. 
Gould founded the program after her proposal was awarded a Chancellor's Grant, funded by the Albert and Suzanne Lord Chancellor Endowment.  
Peer counselors do not provide psychotherapy/clinical counseling for addressing severe or long-term mental health disorders or emergency mental health crises. Concerns discussed with peer counselors may include: 
Stress 

Feelings of anxiety 

Feelings of depression 

College adjustment 

Relationship and communication difficulties 

Identity development 

Connection and sense of belonging 
Students who wish to see a peer counselor must first email CAPS at [email protected] to schedule a screening with a therapist.  
If you are experiencing a mental health emergency, contact one of these 24/7 resources:  
Call 911 or go to your nearest hospital emergency room  

Call the Penn State crisis line: 877-229-6400 

Call the Montgomery County mobile crisis: 855-634-HOPE (4673)  

Use the crisis text line: Text "LIONS" to 741741  

Call the National Suicide Prevention Lifeline: 800-273-TALK (8255) 
The Penn State Abington Office of Development and Alumni Relations will host a 5K on April 3 to benefit CAPS and campus athletics. Registration and details are available at this link.
About Penn State Abington 
Penn State Abington provides an affordable, accessible and high-impact education resulting in the success of a diverse student body. It is committed to student success through innovative approaches to 21st-century public higher education within a world-class research university. With more than 3,000 students, Penn State Abington is a residential campus that offers baccalaureate degrees in 23 majors, undergraduate research, the Schreyer honors program, NCAA Division III athletics and more.