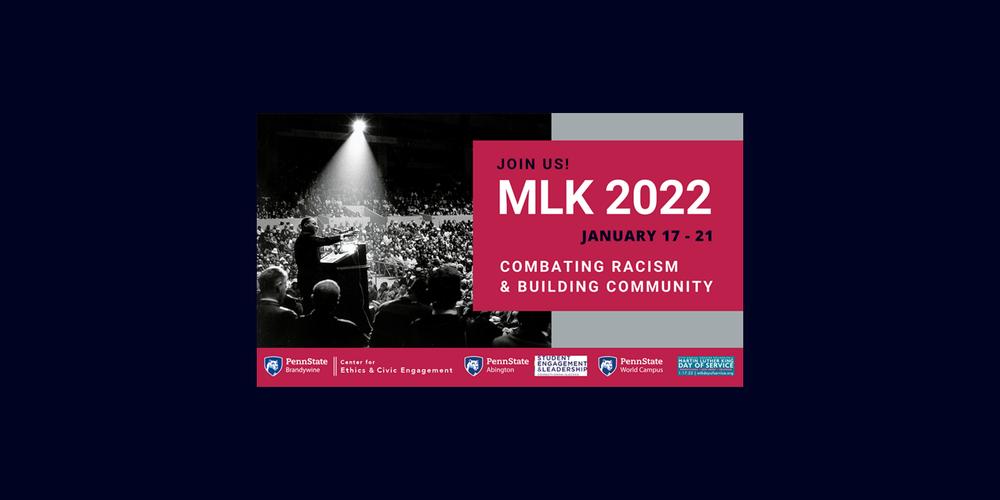 Penn State Brandywine's Center for Ethics and Civic Engagement is presenting a week-long lineup of programming that includes service, education and activism opportunities in honor of the life and legacy of Martin Luther King Jr.
This year's events are being held in partnership with Penn State Abington's Student Engagement & Leadership office and Penn State World Campus Student Affairs. As a part of the 27th annual Greater Philadelphia Martin Luther King Day of service, many events will be offered both remotely and in-person and most are open to the public.
Events open to the public include:
Day of Service
10 a.m. Monday, Jan. 17, in-person at the Student Union
Students, faculty, staff and the public are invited to this morning of service to honor King's life and legacy. Student volunteers will lead a variety of family-friendly service projects, crafts and educational activities.
Social Change Wheel
6:30 p.m. Tuesday, Jan. 18, via Zoom
How can you be an agent for social change? Explore the Social Change Wheel 2.0, a model from the University of Minnesota's Campus Compact.
Alumni in Action
7 p.m. Thursday, Jan. 20, via Zoom or in-person at the Student Union
Filmaker Jacob Mejias, who graduated from Penn State in 2021, will discuss directing his documentary about racial protests in Philadelphia in the summer of 2020
"I am Not Your Negro"
8 p.m. Friday Jan. 21
Join us for a screening of this 2016 documentary expanding the work of James Baldwin on the peril of America faces from institutionalized racism.
A complete list of events, registration information and further details are available at the Center for Ethics and Civic Engagement's website.