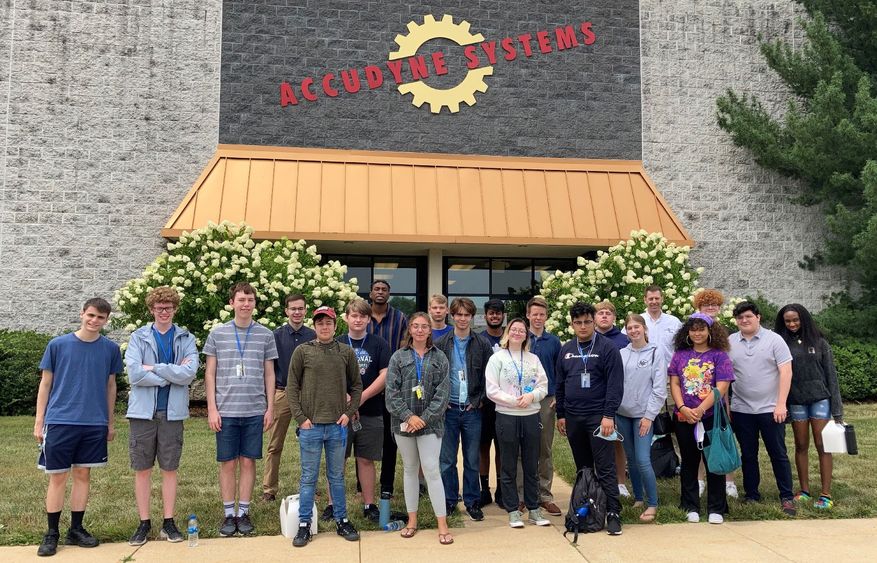 Penn State Abington's Engineering Ahead program, aimed at increasing retention among a diverse group of engineering students, recently completed a hybrid program that featured four weeks of virtual work followed by a one-week residential experience at Lions Gate Residence Hall. The return of an in-person component after a fully virtual year in 2020 enabled the students to make site visits to Lockheed Martin and Accudyne Systems.
The intense program welcomed 20 participants and started each morning with a math "boot camp," taught by lecturer in math Stan Ritvin, that focused on pre-calculus and problem-solving exercises from 9 a.m. to noon. After the lecture portion of the morning, students would go to breakout rooms to work with one of the five teaching assistants, three of whom are Engineering Ahead graduates.
The afternoons varied between metacognition classes with Abbey Auxter, a mathematics instructor at Abington, and work on projects for industry partners Lockheed Martin and Accudyne Systems.
Alumnus Stephan Zweidler, partner and director of technical sales and marketing at Accudyne, and a member of the Abington Advisory Board, spent hours volunteering his time to develop presentations, design real-life engineering projects, and host a dynamic tour of Accudyne's facilities for the students.
"My hope is that the students will identify with someone and/or something they see during the tour that motivates them to stay curious and continue their engineering and science studies. Often, a positive experience or seeing something exciting on a tour will spark some energy within that drives students forward in their studies, even when the Partial Differential Equations homework has their brain frazzled," said Zweidler.
Michael Kagan, associate professor of physics and Engineering Ahead coordinator, said: "Students were thrilled to learn from a high-level engineering professional like Stephan, and even more enthusiastic to visit Accudyne and see the work firsthand."
The visit to Accudyne left student Maya Harrington with a strong takeaway as she embarks on her engineering studies: "They told us in the presentations that creativity will be the most effective skill you have as an engineer. I feel like that will contribute to the personality and approach I have as an engineer."
At Lockheed Martin, students were greeted by an engineer who had been in their position only four years before. Aly Farkas graduated in Spring 2021 and has accepted a position at Lockheed Martin. She offered participants a presentation built on first-hand experience.
"Seeing where I was 4 years ago starting out the Engineering Ahead Program to where I am now starting out my career, the program allowed me to gain the confidence I needed and built a great foundation for college which allowed me to pursue great courses, get involved with undergraduate research, and do well academically," she said. "I was able to relate to the students and give them important advice that I received going into college which I thought was beneficial when I was in their position."
Students also valued getting a jump on college-preparedness as they gained an early introduction to the pace, rigor, and social aspects of a Penn State Abington education.
"Building a connection with other engineering students before you even start college is really important because you don't walk in completely blind," student Madison Westbrook said.
Connor Eirich, another Engineering Ahead participant, felt the program gave him confidence he'll carry into his first year at Abington. "[Engineering Ahead] mentally prepares you for what's coming. The transition from high school to an engineering field is this big scary thing. You never really know how well your high school prepared you for college, but these courses give you some peace of mind."
Engineering Ahead participants will remain together this fall for their own First Year Seminar, taught by Auxter, which helps students acclimate to the new challenges and opportunities they will experience in their first semester at Abington.
*********
The General Engineering degree with Multidisciplinary Engineering Design option (GE-MED) at Penn State Abington incorporates advanced coursework in electrical engineering, computer engineering, and engineering design to produce innovative engineers specialized in systems design and integration.