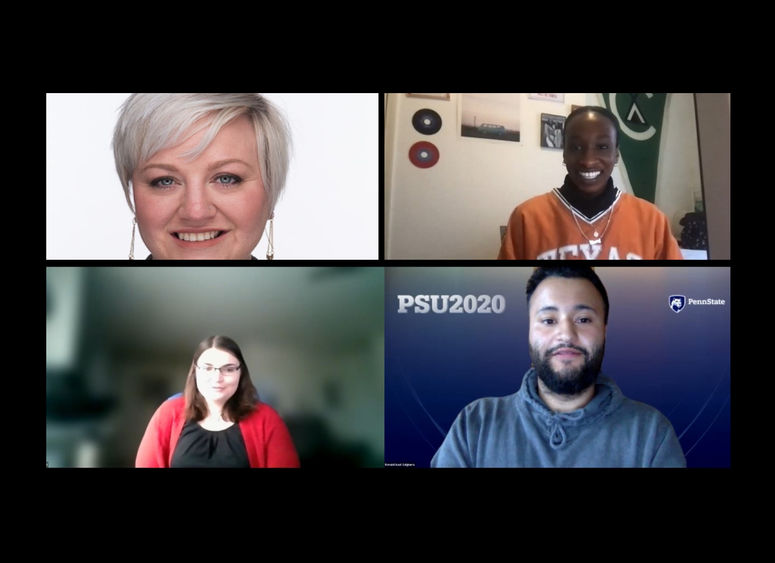 ABINGTON, Pa. — Professionals who work for a financial services company, a marketing agency and a television station gathered on Zoom this week to support a diverse group of Penn State Abington students targeting careers in technology.
The Diversity in Technology event featured:
Nikki Foreman, technical scrum master at Vanguard
As a student, Foreman was focused on working in the pharmaceutical industry, but after her internship at Vanguard, she had a change of heart. She is now in her 12th year at the financial services giant.
"My Vanguard internship was coding and making changes to the website, and I immediately got to see what the industry was like," she said. "You should start looking for internships early — as a sophomore or junior would be the sweet spot so you could do two internships — and use Career and Professional Development to see what's out there."
Foreman worked as a tutor in college, and the skills she mastered then support her now.
"I really think tutoring helped me with the coaching and mentoring aspect that someone in the IT field needs, and a huge part of my day-to-day as a scrum master is seeing how people learn," she said. "I was also the president of a club and that gave me a taste of leadership. We work toward a common goal and gain the trust and buy-in of everyone on the team to put in the hours to reach our goal."
Foreman urged the students to bring their full selves to whatever career path they choose.
"A large part of my day is taking care of my teammates and having compassion and making connections. Bring what you care about to the table," she said. "I tend to get bored quickly and like to do a little bit of everything. Having an unsettled spirit has helped me get where I am today."
Amy Pertuset, broadcast systems specialist at WPVI-TV 6ABC
Pertuset worked at ESPN and The Walt Disney Co. after graduating from Penn State Abington in 2016 with a degree in information sciences and technology (IST). She has since returned to the University to earn a master's degree in data analytics and is working on another master's in business administration.
As a student, Pertuset was a member of the Community Outreach Workers and Lion Ambassadors, and she recommends getting involved for the impact it can have on your career.
"My first boss said he looked at extracurriculars to see how I would function in a fast-paced environment. It showed I had the ability to balance a lot at once," she said. "Belonging to these organizations helped me get more comfortable with public speaking, and they are a form of networking."
Pertuset's internship at an IT consulting company added dimension to her skills set.
"I got used to the front end of customer service and did site visits there, too. I started at ESPN knowing what I was capable of, and it enabled me to move to another position there," she said.
"Everything I do now is built on my Penn State education."

—Ebony Ukogu, information technology operations specialist at DiD Agency
Ebony Ukogu, information technology operations specialist at DiD Agency
Ukogu, who graduated from Penn State Abington in 2019 with a degree in IST, said the program was well-rounded and prepared her for the workforce.
"It kept up a really fast pace and helped me develop the ability to think on my feet," she said.
Although top-notch technical knowledge is critical, knowing how to communicate is important in dealing with internal and external clients. Ukogu credits extracurricular activities with helping to refine her skills.
"We don't always talk about working with people and communicating with them. My internship and working as a resident assistant helped me with interpersonal communications. Interacting with people and putting our heads together is paramount in my career today," she said.
Okugo credited Career and Professional Development and the whole of her education at Abington with helping her secure her internship at a charter school and her success in her current position.
"I utilized career and professional development, which gave me a list of places to intern for IT and helped with my resume. My internship prepared me for my current job, and it expanded on what I learned in school. Everything I do now is built on my Penn State education," she said.
The Diversity in Technology event was co-sponsored by Career and Professional Development and the Abington Cybersecurity Club.
About Penn State Abington
Penn State Abington provides an affordable, accessible and high-impact education resulting in the success of a diverse student body. It is committed to student success through innovative approaches to 21st-century public higher education within a world-class research university. With nearly 3,500 students, Penn State Abington is a residential campus that offers baccalaureate degrees in 22 majors, undergraduate research, the Schreyer Honors College, NCAA Division III athletics and more.