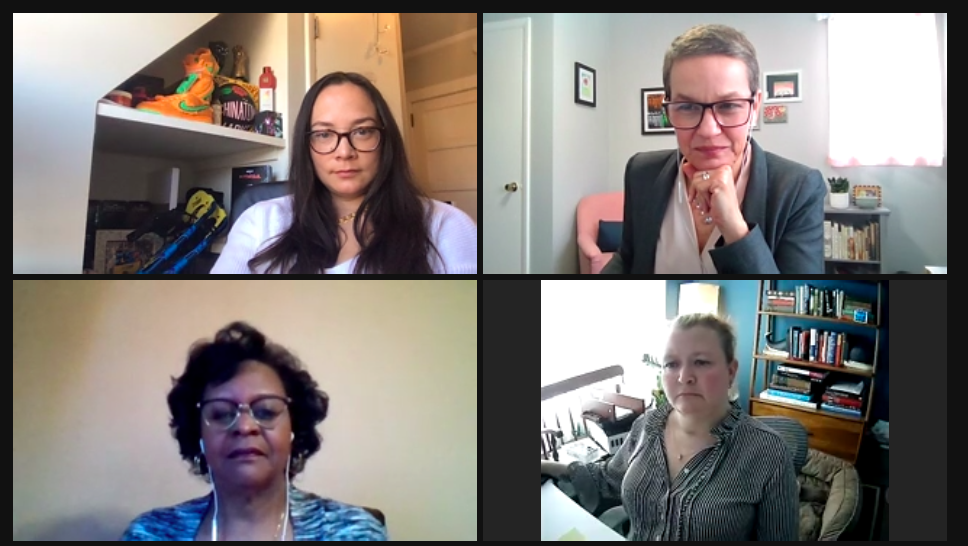 ABINGTON, Pa. — About 50 Penn State Abington students marked International Women's Day at a Women in Leadership event via Zoom this week. Five women in industries ranging from global entertainment to pharmaceuticals to finance offered career and life advice to the group.
The Women in Leadership event featured:
Tina Hennessey, assistant vice president for University Development, Penn State
Hennessey spoke to concerns among first-generation college students and barriers to entering the workforce.
"My parents didn't go to college, and so for me I didn't have natural mentors in my life to help me navigate the professional world," said Hennessey. "I didn't have people around me to help me with social capital. How do you dress professionally? How do you write a thank you note? Panels such as this are helpful."
She cautioned Abington students to own everything about their story when on a job interview.
"For example, if you apply for something outside of your major, know your story as to why you are a fit for the job. It comes across when people are authentic during interviews," Hennessey said.
"Take risks, and remember that the challenges change at every stage," she added. "The hard choice, the uncomfortable choice, is probably the one you should lean into."
Alix Kram, vice president of Global Retail and Licensing/Consumer Products, Warner Music Group
Kram counseled the Abington students to find their leadership voice and practice it in the real world, even if it's just in a study group.
"Figure out where you want your leadership voice to take you," said Kram. "There are so many ways to approach leadership. We often think of it as up on a pedestal, but you can curate your leadership voice on a daily basis. Your leadership voice is a living thing that you continue to craft."
Kram also talked about the fear that held her back from moving on from Nickelodeon, where she had been employed since graduating from college.
"I wanted to try my hand at running my own agency. What if I don't have the political capital? My biggest challenge was taking a leap into my own business without a safety net. I needed to get out of my own way," she said. "Listen to yourself and the need for change."
"The hard choice, the uncomfortable choice, is probably the one you should lean into."

— Tina Hennessey, vice president for University Development, Penn State
Katrina Lukacs, Head of Market Operations–Options, Nasdaq
Lukacs, a former stockbroker, works in an industry that is dominated by men.
"There were only a handful of women at the firm I worked for at the beginning," said Lukacs. "I didn't let it bother me because I earned my place at the table. It's interesting to see now that there are a lot more women. It speaks to fortitude women have. The world is opening up, and women are taking part in these conversations."
"Don't be shy about showing your knowledge, and know how to express your opinions. Reflect on conversations and understand how you appear to others," Lukacs said.
Donna Marron, director and compliance officer, Merck & Co.
Marron spoke to the students about some of the qualities needed to secure their first professional position.
"For interviews, think of examples of how you learned from different experiences. How did they alter your approach to problems?" said Marron. "Think of challenges and link them to the position you are interviewing for. You need to make a connection with the hiring manager.
"Keep knocking on the door," she added, "and don't get discouraged."
Lynda Williams, assistant vice president, Wells Fargo International Division
Williams was often the only woman and person of color in the room, especially early in her career.
"There is a double hardship for women of color, but many companies have team member networks. Search out mentors and groups who support you," she said. "I worked with women from Europe and Hong Kong. We are pretty much the same everywhere. The work process may be different, but the challenges are the same.
"Grab the amount of risk that you think you can handle," Williams added, "and keep chipping away at the goal."
About Penn State Abington
Penn State Abington provides an affordable, accessible and high-impact education resulting in the success of a diverse student body. It is committed to student success through innovative approaches to 21st-century public higher education within a world-class research university. With nearly 3,500 students, Penn State Abington is a residential campus that offers baccalaureate degrees in 22 majors, undergraduate research, the Schreyer Honors College, NCAA Division III athletics and more.