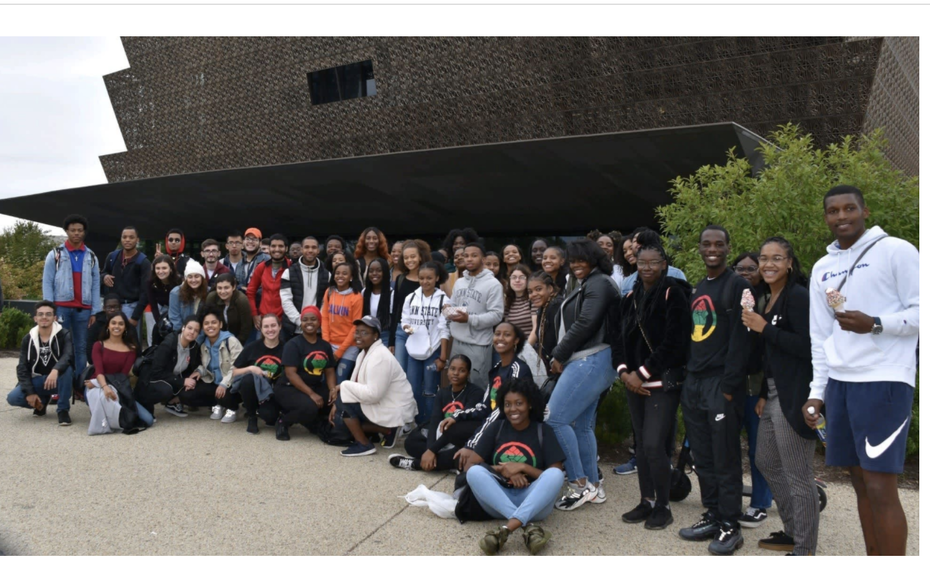 ABINGTON, Pa. — Penn State Abington's Black Student Union (BSU) raised $1,500 through a Black History Month campaign to support the Damian J. Fernendez Educational Equity Scholarship at Penn State Abington. It was endowed last year in the name of the former chancellor with $50,000 in private support and $50,000 in matching funds from the University.
The first student recipient of the scholarship, which will continue in perpetuity, will be selected this year.
Beverly Placide, who manages public relations for the BSU, highlighted the fundraising campaign with daily Instagram posts last month about lesser-known yet influential figures in Black history. Each post included a link to the scholarship donation page.
"This scholarship is important because it provides money for students of color to complete their Penn State degrees," she said. "Other students and student organizations supported us and so did the Office of Diversity, Equity, and Inclusion. Donations came primarily from students and faculty."
Molaea Goodman, president of the BSU, said the executive board of the organization decided in the fall to raise funds for the scholarship after consulting with their adviser.
"We wanted to do something to honor Black History Month in February, and our advisor told us about the educational equity scholarship," she said. "Working it out required a lot of planning and coordination."
Contributions to the Fernandez educational equity scholarship are still being accepted. Contact Lauren Enlow, associate director for Alumni Relations and Parent Engagement, for more information.
"This scholarship is important because it provides money for students of color to complete their Penn State degrees."

— Beverly Placide, Black Student Union
Sophomores Goodman and Placide have belonged to the BSU, which has almost 100 members, since they arrived at Abington.
"One of our goals with the BSU is to create a safe space for Black students to engage and discuss a broad spectrum of ideas and take part in BSU events. We meet every Friday, even during the pandemic, so we can discuss what's happening in the news and what's happening in Black culture," Goodman said.
"The BSU is good way to get involved with other students who look like you, and you can find that safe space for that," she said. "If you are an advocate for equal rights, the BSU is the perfect organization to join. Our work has a domino effect. It spreads to a lot of other people."
"We try to balance the serious with the fun. The world can seem like a scary place right now, and we need balance," Placide said.
About 'A Greater Penn State'
This gift will advance "A Greater Penn State for 21st Century Excellence," a focused campaign that seeks to elevate Penn State's position as a leading public university in a world defined by rapid change and global connections. With the support of alumni and friends, "A Greater Penn State" seeks to fulfill the three key imperatives of a 21st-century public university: keeping the doors to higher education open to hardworking students regardless of financial well-being; creating transformative experiences that go beyond the classroom; and impacting the world by serving communities and fueling discovery, innovation and entrepreneurship. To learn more about "A Greater Penn State for 21st Century Excellence," visit greaterpennstate.psu.edu.
About Penn State Abington
Penn State Abington provides an affordable, accessible and high-impact education resulting in the success of a diverse student body. It is committed to student success through innovative approaches to 21st-century public higher education within a world-class research university. With nearly 3,500 students, Penn State Abington is a residential campus that offers baccalaureate degrees in 22 majors, undergraduate research, the Schreyer Honors College, NCAA Division III athletics and more.