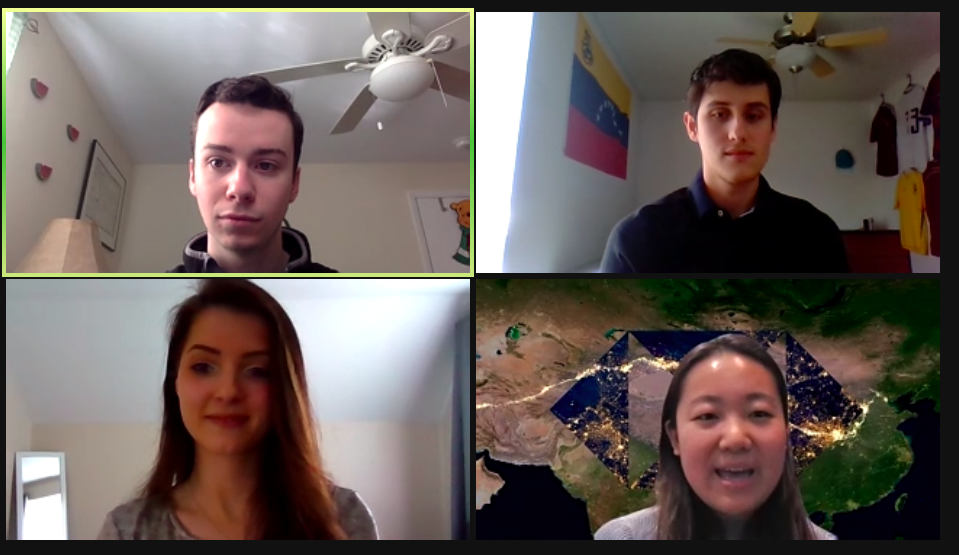 ABINGTON, Pa. — With students from 32 different countries studying at Penn State Abington, the campus' Center for Career and Professional Development (CPD) and the Office of Global Programs developed programming specifically for international students during Career Week.
The Global Career Stories event featured former Abington students who hail from South America, Europe and Asia, along with experts from CPD and Global Programs, who highlighted the worldwide reach of the Penn State network.
Olga Moskaleva, regional global education coordinator, collaborates on events and trainings that support international students.
"We help students to be more successful in their career journey by offering alumni panels with our partners from the Office of Alumni Relations and internship and job search workshops with Penn State's Directorate of International Student and Scholar Advising," she said.
"We offer many global and intercultural learning opportunities along with leadership experiences from events, conferences and programs to study abroad. CPD is always there to make sure our students are well prepared and ready to achieve their career dreams. We always encourage students to get involved and connect with us to start creating their professional identity as early as possible," Moskaleva added.
Dilun Wu, vice president and senior branch manager for HSBC Bank USA, praised the opportunities available at Penn State for international students.
"I found a mentor and became a mentor to incoming students of Chinese and Asian descent, and it prepared me to learn about the cultures of other countries. I networked with professors and students and developed relationship skills," she said.
"I have learned that finding my own niche is very important," Wu added. "Working taught me valuable lessons about making connections and leveraging resources. I speak Mandarin and was looking for something more international. Think about if you have an advantage like speaking another language. My language skills led to my first job."
Wu suggested that students have a business plan for themselves.
"It's never too late to have a career plan for yourself especially with all of the resources Penn State has for international students. Adjust your plan when necessary but set goals and execute them," Wu said.
"Your Penn State connections with stay with you forever. I'm still in touch with my former professors. You want to collect valuable experiences in college and grow as a professional."

— Christine Beck, 2019 Penn State Abington alumna
Christine Beck, who earned her business degree from Abington in 2019, is a human resources supervisor for Krannich Solar USA.
"I started working with Olga and from there things just took off. I took part in a global engagement leadership experience, and I got to know other Penn State students. I pushed limits and was uncomfortable but in a safe environment," she said.
Beck, who is from Germany, took another step forward by securing an internship with a firm she connected with during the Abington Career Expo.
"I learned what it is like in the professional world in the United States, and it gave me the confidence to take on a bigger role. My employer became a mentor. As you get more and more familiar with how things work in American companies, your confidence builds up," she said.
She reminded students to take advantage of the many opportunities presented to them at Abington and to attend events.
"Your Penn State connections with stay with you forever. I'm still in touch with my former professors. You want to collect valuable experiences in college and grow as a professional," she said.
About Penn State Abington
Penn State Abington provides an affordable, accessible and high-impact education resulting in the success of a diverse student body. It is committed to student success through innovative approaches to 21st-century public higher education within a world-class research university. With nearly 3,500 students, Penn State Abington is a residential campus that offers baccalaureate degrees in 22 majors, undergraduate research, the Schreyer Honors College, NCAA Division III athletics and more.