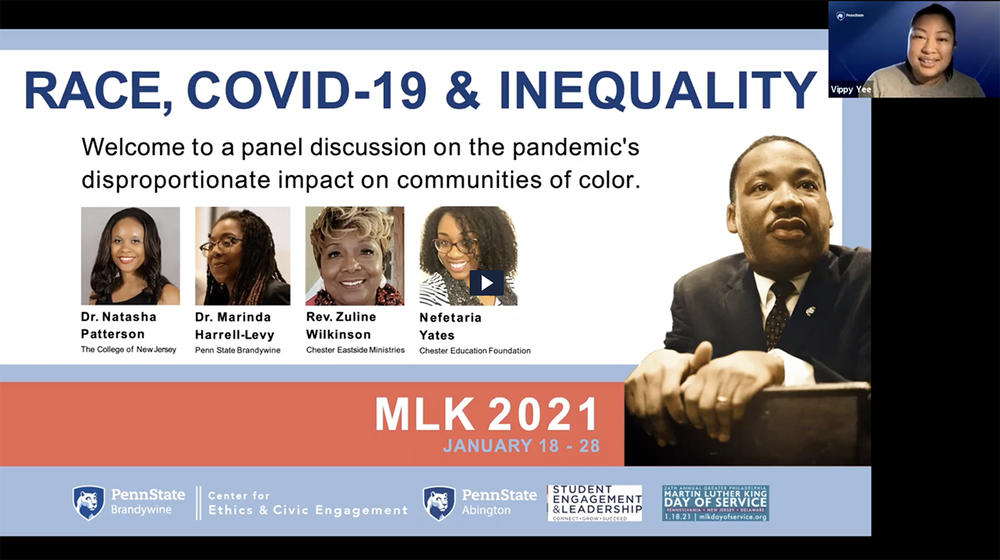 Taking advantage of virtual meeting technology, Penn State Brandywine and Penn State Abington partnered on a series of events to celebrate Martin Luther King Jr. Day in January. Nearly 200 people attended at least one of the eight events held Jan. 18-28, including Penn State students, faculty and staff as well as community members.
Reflecting the theme of this year's Greater Philadelphia Martin Luther King Day of Service, the events focused on COVID-19 and justice.
The series began with a discussion of videos of student leaders from both campuses in which they shared their voices and perspectives about the election of the first bi-racial, female United States vice president and the impact of King's legacy on addressing current issues of systemic racism.
"One of our most powerful MLK 2021 events was a panel discussion on COVID-19's disproportionate impact on communities of color," said Vippy Yee, Rosenberg director of Brandywine's Center for Ethics & Civic Engagement, who led the dialogue. "Our panel discussion with scholars and community leaders explored the disproportionate impact of COVID-19 on communities of color in terms of health outcomes, education, civic participation and economic opportunities."
Panelists for the Jan. 19 event included Marinda Harrell-Levy, associate professor of human development and family studies at Penn State Brandywine; Natasha Patterson, assistant professor of public health at The College of New Jersey; Rev. Zuline Wilkinson of Chester Eastside Ministries, and Nefetaria Yates of the Chester Education Foundation.
A "Living Room Conversation" on Jan. 26 gave participants the opportunity to exchange ideas and experiences related to the disproportionate impact COVID-19 has had on people of color. This model of conversation was developed by dialogue experts in order to facilitate connection between people despite their differences, and even identify areas of common ground and shared understanding, according to the Living Room Conversations website.
Programming also included a screening and discussion of the documentary "Unnatural Causes" that explored the racial and socioeconomic inequalities in our health outcomes.
Yee was particularly excited about the partnership between Penn State Brandywine and Penn State Abington to present the programs. She said student interns from Penn State Brandywine's Center for Ethics and Civic Engagement and Penn State Abington's Student Engagement and Leadership Office began planning the programs last fall.
"This was such a wonderful partnership and an excellent professional development opportunity for our students," Yee said. "They collaborated with their peers at another campus and expanded their own network within the university. By collaborating, we also expanded the reach of our programming and had a larger turnout for our events than if we had programmed for MLK on our own. We also partnered with the Office of Diversity, Equity and Inclusion of World Campus for the inauguration watch party."
Yee said event participants were presented with information and experiences that may have been unknown to them.
"The programming gave them opportunities to reflect on deep inequalities in our society that are being made more visible because of the pandemic," Yee said. "For others it was an opportunity to share their experiences with injustice, to be heard and seen, and to bravely help others understand their experiences as people of color."
"Most of our programs involved interactive discussions, and I was deeply moved by the honesty and vulnerability of our speakers, students and community members," Yee said.
Brandywine's Center for Ethics and Civic Engagement is also continuing a mask-making service project that began in January, with a goal of donating 100 masks to local senior centers.