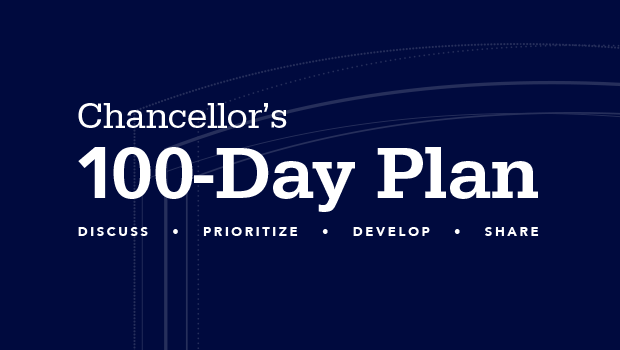 Throughout American history, the first 100 days in office have been a critical benchmark for leadership. Penn State Abington Chancellor Margo DelliCarpini has taken up that mantle and revealed goals for her first 100 days.
"I am excited about exploring the opportunities ahead for Penn State Abington as we lay the groundwork for a remarkable future. Campus outreach and public input will be the hallmark of this process so I will be meeting with stakeholders on and off campus," she said.
"Overall, my plan is to identify our areas of strength and uncover new priorities and sectors we need to augment while aligning with the strategic plan. Your thoughts will be vital to informing my vision and goals for Abington and will help create the framework for campus leadership to advance our strategic initiatives," she continued.
The chancellor outlined these goals for her first 100 days:
Discuss and discover
Meet with internal stakeholder groups. Create opportunities for 1:1 meetings, listening sessions, and small group discussions with students, faculty and staff to get to know those who call Penn State Abington home. Goals: Learn about Abington's successes and points of pride, as well as identify concerns within the campus community.
Meet with external partners identified by campus leaders and Advisory Board. Goals: Discuss existing partnerships and gather information on how to strengthen or expand those relationships.
Inventory campus initiatives including diversity, equity and inclusion; student success; and student access efforts.
Review official campus documents and existing data.
Prioritize campus initiatives
Clarify areas of focus and identify important initiatives based on information from internal and external meetings and inventory.
Establish operational and leadership priorities for identified areas of focus.
Develop a framework for the future
Identify transition priorities.
Create action steps that align with the Abington strategic plan and identified opportunities.
Share 100-day update with campus community
DelliCarpini is offering faculty and staff the opportunity to meet with her during 30-minute "Open Door" meetings throughout the semester. Faculty and staff should check their email for instructions.
A student town hall is planned for noon Feb. 12. Students can find the Zoom link to the town hall on Engage.
About Penn State Abington
Penn State Abington provides an affordable, accessible and high-impact education resulting in the success of a diverse student body. It is committed to student success through innovative approaches to 21st-century, public higher education within a world-class research university. With about 3,700 students, Penn State Abington is a residential campus that offers baccalaureate degrees in 22 majors, undergraduate research, the Schreyer honors program, NCAA Division III athletics, and more.