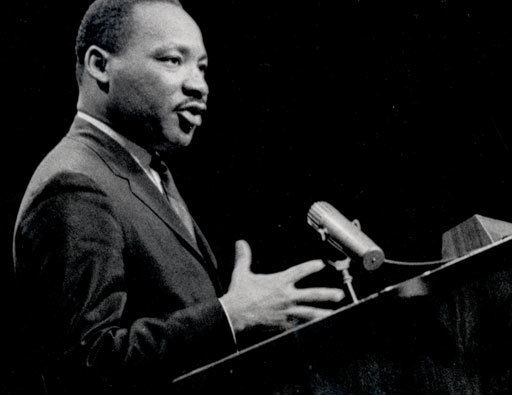 ABINGTON, Pa. — Martin Luther King Jr. Day celebrations looked different this year for the Penn State Abington community due to the pandemic, but they were no less meaningful, especially given the social and political unrest in the United States. An in-person day of service crowded with students, faculty and staff across campus and around the region was replaced with two weeks of Zoom-based discussions, films and an awards ceremony.
Abington's Student Engagement and Leadership (SEAL) unit teamed up with the Penn State Brandywine Center for Ethics and Civic Engagement for a series of events to honor King's life and discuss how his legacy can inform the way the nation addresses systemic racism.
The kickoff featured videos from student leaders at both campuses offering their viewpoints on current struggles with bias and the significance of the inauguration of Vice President Kamala Harris, the first Black woman and first Indian-American to be elected to the position in the U.S., followed by a conversation.
Tracy Reed, assistant director of SEAL, directs service learning at Abington. "Through service learning and service experiences, we reflect on Dr. King's life and come to an understanding of the struggles and challenges in our world," she said.
"Kamala Harris represents firsts that I never thought were possible. It gives me hope for the future. It seemed impossible a year ago. She represents dreams that didn't exist then," said Abisha Ebenezer, a student and service associate for SEAL, who served as the moderator. "I also hope more attention is paid to the immigration crisis now that we have more diversity in the White House and to issues on how difficult it is to get to the United States and immigrate here."
Abington student Genesis Berrios-Torres also mentioned Harris's inauguration: "It's been so long that this community has been underrepresented in politics. It's amazing to know there will be a voice for minority communities," she said.
Megan Close, Abington Student Government Association vice president, said new faces in the White House are cause for optimism, adding, "I'm hopeful for the Equal Rights Amendment to be passed, to combat the destructive effects of climate change, and for reform to the justice system."
"I never give up on knowing that one day people in the United States will be equal. We will not give up the hard work of fighting for our rights."

— Valara Cheristin, student, Penn State Abington
Valara Cheristin, an Abington student, said she is determined that change will happen.
"I never give up on knowing that one day people in the United States will be equal. We will not give up the hard work of fighting for our rights," she said.
"Martin Luther King knew the most important thing we could do was to make progress," said Justin Rodriguez, president of the LatinX student organization at Abington. "We must have a consistent effort to move forward."
During the event, participants shared King's words and discussed their meaning. Reed said this quote by King — "The ultimate measure of a man is not where he stands in moments of comfort and convenience, but where he stands at times of challenge and controversy" — reminded her of recent moments during the pandemic, and the Black Lives Matter movement.

"It's the difference between standing up and having a voice, or standing back. It's important to educate ourselves and not go with the masses," she said. "We must push others to be the best of themselves and remember the lives of people who stood up for themselves and everyone else."
Penn State Abington events honoring King run through Jan. 27. See the full list here.
About Penn State Abington
Penn State Abington provides an affordable, accessible and high-impact education resulting in the success of a diverse student body. It is committed to student success through innovative approaches to 21st-century, public higher education within a world-class research university. With about 3,700 students, Penn State Abington is a residential campus that offers baccalaureate degrees in 22 majors, undergraduate research, the Schreyer honors program, NCAA Division III athletics, and more.