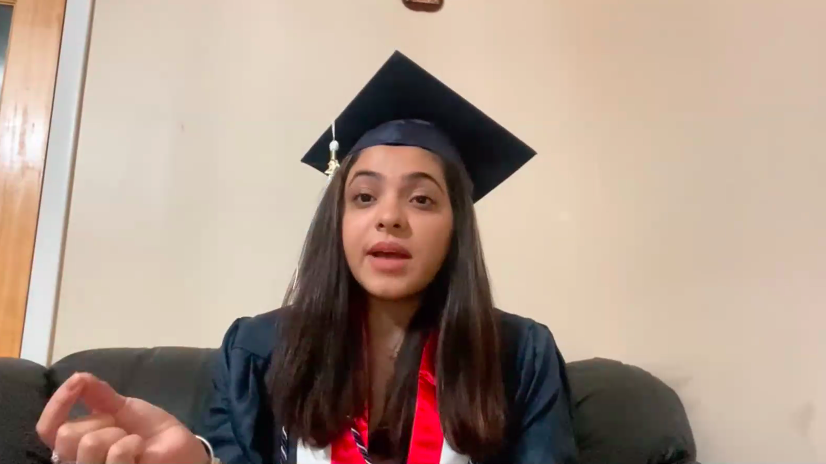 ABINGTON, Pa. — The Penn State Abington Office of Diversity, Equity, and Inclusion (ODEI) hosted its Cultural Graduation for summer/fall 2020 graduates this week. The event, with the theme of "Shine On," included induction into the Alpha Alpha Alpha national honor society for first-generation college students.
"The Cultural Graduation signifies success for not only the students, but also for their family and friends. It's an important milestone with an intimate ceremony to publicly thank people who helped them overcome barriers," Aneesah Smith, director of ODEI, said.
ODEI held its first Cultural Graduation in December 2019 as a special recognition celebration for new graduates who are students of color, LGBTQ+, and/or first-generation. 
The new graduates it honored this week included Lorna Damaris Calderon, Kira Charles, Nya Cross, Kyra Fripps, Samirah Herbert, Mervana Jacob, Deana Mariani, Mohammed Nijim, Malvi Patel, Gabriela Restituyo and Korona Aaliyah Talbert.
The event included the Donning of the Kente, a cultural achievement ceremony celebrating the graduation of students who recognize their African roots. The ceremony utilizes the Ghanaian Kente cloth or stole as a symbol of African-American heritage in the adornment of the graduation robe. It was designed to recognize the academic and personal achievements of the graduates, and to encourage them to accept the challenge and responsibility to continue to strive for excellence in their personal, academic and professional careers. 
Other students received stoles that represent their heritage.
Oscar Almonte-Espinal, Lorna Calderon, Kira Charles, Nya Cross, Samirah Herbert, Mervana Jacob, Danielle Laskina and Leith Mohammad were inducted into the Alpha Alpha Alpha honor society along with Venita McGuire, assistant residence life at Abington. The honor society allows first-generation college graduates who are faculty and staff to join as well. 
"Being first can be hard, and it can be scary. But it is also a source of pride. It's a pledge to finish what you started, to be their light in the darkness, and support others in their journeys to be the first," Smith said.
Andrew August, interim chancellor, reminded the soon-to-be Penn State Abington graduates of the skills they developed outside of academics.
"You've learned communication skills, critical and analytical thinking, flexibility, and teamwork. Employers are looking for resilience in this challenging environment. All of these skills are critical. Be prepared to talk about them and use them in the workplace. They will help you become as confident in yourself as we are in you," August said.
Gina Kaufman, director of Student Affairs, congratulated them on their perseverance.
"You are at the finish line of your Penn State Abington experience. It's time to think about how you are going to contribute to the world," she said. "You've done your best to leave Abington better than you found it. Your time here has impacted fellow students, faculty and staff. Thank you for your gifts to this campus. You have a duty to shine, to be your own light, and to be your own champion."
Melissa Quintana, a 2006 Abington alumna, encouraged the new graduates to connect with their fellow alumni and to use the skills they acquired in this last, unusual year of their college careers.
"In these darkest of times, your determination and perseverance have been a light. I can't think of a better year to prepare you for your professional journey," Quintana said. "Staying in touch with Abington has been beneficial to me both professionally and personally. You are always welcome home, and Penn State Abington is your home."
About Penn State Abington
Penn State Abington provides an affordable, accessible and high-impact education resulting in the success of a diverse student body. It is committed to student success through innovative approaches to 21st-century public higher education within a world-class research university. With nearly 4,000 students, Penn State Abington is a residential campus that offers baccalaureate degrees in 22 majors, undergraduate research, the Schreyer Honors College, NCAA Division III athletics and more.