As forecasts predict a major weather event for the Northeast, finals will continue as scheduled and supervisors are urged to be flexible with remote employees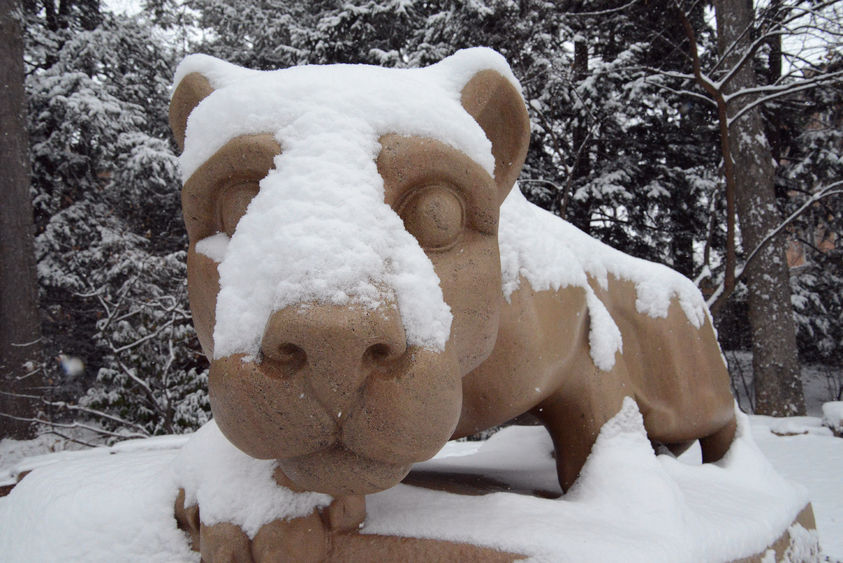 UNIVERSITY PARK, Pa. — With students taking finals remotely and many employees working from home, the University has updated its guidance for students, faculty and staff in the event a campus ceases normal operations due to weather, power outages or other emergencies.
The University community is reminded that during inclement weather, the Office of Physical Plant will be working diligently to clear sidewalks and roadways as quickly as possible. In the event that normal operations at a Penn State location are disrupted due to snow, individuals are urged to avoid coming to campus, if possible, and those who must visit campus should remain alert and avoid sections of campus that may be covered in snow or ice.
Weather forecasts are predicting a significant snowfall for much of Pennsylvania this week. Should the inclement weather cause a campus closure, the following protocols are in place for students, faculty and staff:
Finals
With finals being administered remotely this week, and since instructors and students have had time to plan for this, exams will continue as scheduled. However, instructors are urged to be flexible in handling individual situations, such as students who may be unable to access campus Wi-Fi to complete their final exams or who experience power outages due to weather. In these situations, students must be given the opportunity to complete an alternative assessment or a make-up exam. In addition, instructors should not travel to campus to administer a remote exam during a change in normal campus operations, nor should students travel to campus to take an exam.
Employees
While segments of University employees continue to work remotely during the pandemic, Penn State is clarifying its guidance for all employees in the event of a change in normal campus operations:
Essential employees reporting to campus for work: Employees who currently report to campus for work and have been previously identified as performing duties essential to maintaining campus operations should report to campus as directed. These employees will receive Campus Closure Compensatory Time for hours worked, subject to guideline maximums.
Non-essential employees working on campus: Employees who are not identified as performing duties essential to maintaining campus operations, who are unable to perform their work remotely, and are currently required to report to campus for their job, should not report to work. These employees will receive Campus Closure Pay, subject to guideline provisions.
Employees working remotely: If an employee is working remotely (because of the COVID-19 pandemic, under an approved telecommuting arrangement, or otherwise), and the employee continues to be able to work, they should perform their regularly assigned duties. Employees working remotely are not eligible for Campus Closure Compensatory Time. An employee working a rotating schedule of on-campus and remote work should plan to work remotely, regardless of rotation schedule. Supervisors of remote employees should be flexible to allow employees the option to use accrued vacation or personal holiday time and flexible hours during a campus closure or transition to remote operations, where feasible.
Employees working at an alternate work location: If an employee is working at an alternate location, such as attending a conference or training, the employee is not eligible for Campus Closure Compensatory Time if they are able to continue their work responsibilities.
Employees who have questions about campus closure should contact their unit human resources consultant.
Official information sources
For information on inclement weather, the Penn State community should check WPSU-FM and Penn State News — the official sources for weather-related delay or cancellation advisories at University Park campus. In addition, advisories will be sent directly to cellphones, email and Twitter via PSUAlert. An active Penn State access account is required for users to access PSUAlert and add or change contact settings, such as additional emails and cell numbers for text messages. Although signup for the PSUAlert system is reserved for students, faculty and staff, members of the public are encouraged to follow alerts from Penn State's campuses via Facebook and Twitter. Specific links for those who wish to follow PSUAlert messages on Facebook and Twitter are available at https://news.psu.edu/PSUAlert-social/.
For more information about PSUAlert, visit the FAQ.
The operating status at Penn State Altoona and Penn State DuBois will be aired on WPSU, which broadcasts in those regions. All other campus locations should identify their preferred method of communication before inclement weather strikes and distribute that information to their communities.
WPSU, which airs 24-hour programming, can be heard at 91.5 FM in State College, Bellefonte, Lock Haven and surrounding areas, and 90.1 FM in northern Pennsylvania counties. A complete list of station frequencies can be found at http://radio.wpsu.org/frequencies/. The station is also at http://wpsu.org, and closings are listed at http://wpsu.org/closings. When notified, WPSU will begin its live broadcasting earlier than usual start time of 5 a.m., and will interrupt regularly scheduled programming to give periodic updates throughout the day or night.
In addition to WPSU, information also will be promptly and prominently issued online at Penn State News — https://news.psu.edu — assuming that power and internet connectivity are not adversely affected by the weather.