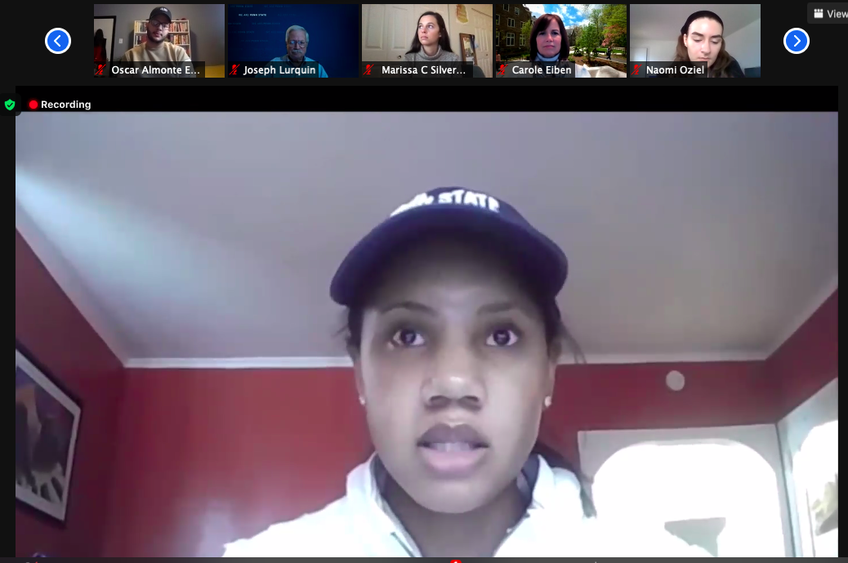 The Penn State Abington Office of Development and Alumni Relations recently hosted the fall 2020 donor appreciation event on Zoom to thank supporters for the gift of a Penn State education.
"Abington donors transform lives and there is no better time than Thanksgiving to show our gratitude," Karen Weiss Jones, director of development, told the participants.
According to Weiss Jones, Abington has more than doubled its endowment for scholarships in the last four years, which translates into 210 more students receiving scholarships than in 2016.
Recent graduate Ariel Avitan received two scholarships as an undergraduate.
"I will always be thankful to the generous donors who helped me complete my degree," she said.
Wei Zhou, a senior accounting major who has a 3-year-old daughter, told the donors that the scholarship she received relieved her financial burden.
"It gave me the confidence to believe in myself and my future," she said.
Donor Albert Paramito said that he, like many Abington students, was the first in his family to go to college.
"My Penn State engineering degree gave me a wonderful career with opportunities I never could have imagined. I experienced some of the same financial issues as a student that you do," he said.
Donors Barry and Renee Brandeis both earned their bachelor's degrees from Penn State.
"Barry and I are of one mind when it comes to supporting students at Penn State. Any way we can help is a worthwhile pursuit. We are happy to know we can provide a path to a batter life. No one should underestimate the importance of this support," Renee Brandeis said.
"No one should underestimate the importance of this support."

-- Donor Renee Brandeis
The Student Emergency Assistance Fund supports purchasing textbooks, food insecurities, rent, transportation, or other emergencies. This year, the fund received a $25,000 grant from Barnes & Noble for textbooks. It also includes the LionShare food pantry and Philabundance.
Faith Attig, president of the Student Philanthropy Council, said the emergency fund helps protect students and their dreams.
"It's always great knowing that people are in your corner rooting for you to succeed. This fund isn't just about giving back to your alma mater, it's about helping a struggling student overcome food insecurity through the food pantry and Philabundance, donating time to speak at our panels and events, and continuing the gift of education through scholarships," she said.
"Donors are the reason many of us are on campus today, and it's so comforting to know that there is a huge network of people that truly want to see us thrive, despite the circumstances that may arise," Attig said.
Student Beverly Placide told donors that the Philabundance produce distribution program and the LionShare food pantry are a blessing.
"Not many of us always make enough money to buy a lot of food for the week or two and knowing this exists is such a relief," Placide said.
"Going to the food pantry comes with a level of vulnerability because you have to admit, publicly at least, that you have food insecurities. However, the student workers there never pitied me or made me feel bad, and if I saw them in public, they made me feel loved and cared for. It's such a blessing to know that there's a community of people that take me and my struggles seriously," she said.
Give to Penn State Abington here.
About Penn State Abington
Penn State Abington provides an affordable, accessible and high-impact education resulting in the success of a diverse student body. It is committed to student success through innovative approaches to 21st-century public higher education within a world-class research university. With nearly 4,000 students, Penn State Abington is a residential campus that offers baccalaureate degrees in 22 majors, undergraduate research, the Schreyer Honors College, NCAA Division III athletics and more.