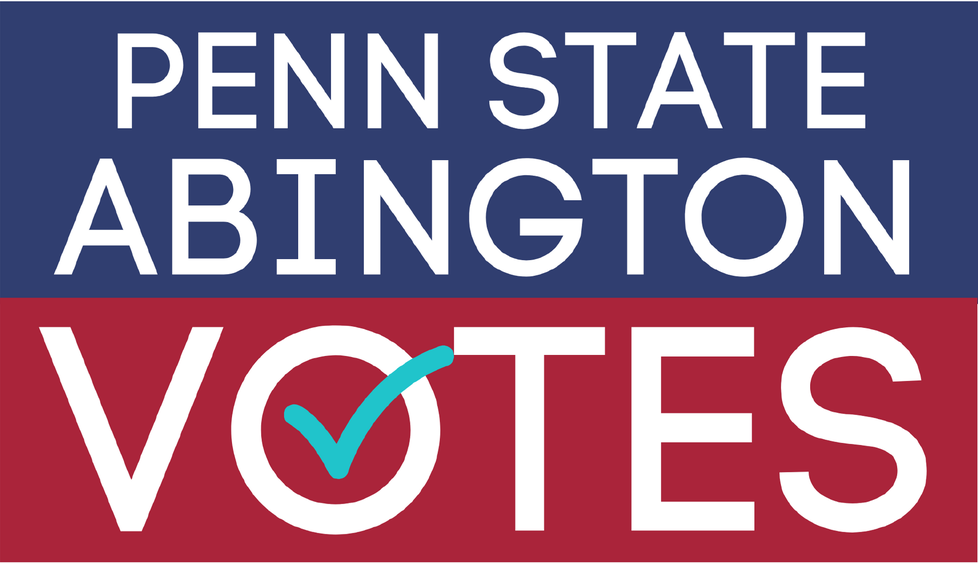 ABINGTON, Pa. — Two Penn State Abington Student Engagement and Leadership (SEAL) staffers committed nearly a year to registering students to vote and educating them on the process and the candidates' positions.
Before the pandemic, Charles Norman and Frank Stern shared an office, which served as an incubator of sorts for the nonpartisan Abington Votes and Be A Voter campaigns. The two programs continued virtually after classes went online in March.
Abington Votes, using a platform called TurboVote, netted 115 new student voter registrations and an additional 59 among faculty and staff.
"The student demographic has not showed up to vote in the past so getting 115 new registrations is huge," Norman said.
Through text and email, TurboVote also reminds voters of deadlines, shows the location of polling stations, and provides instructions on filling out mail-in ballots.
The Be A Voter program staged events, such as "Who Are the Candidates?", that encourage democracy and shared resources to highlight the impact and importance of voting. The SEAL staff also hosted voter seminars in various classes, primarily targeting first-year students, and used social media to connect with them.
"Be A Voter narrows down to voter engagement and voter information. It started last semester to gear up for primary season, to start conversations, and to make students familiar with the candidates and their issues and how they could relate to them," Stern said.
"We can get them to register to vote, but we can't force them to vote so voter engagement was needed. Attendance at the events was not that good at first, but we got more and more students to come. When we would see students who attended events, they would start conversations with us about the different topics," Norman said.
Norman said they were driven to get the facts out.
"We wanted to clearly present what the candidates were saying about how they will move the country forward," he said.
One Be A Voter event explained the ballot and ballot questions.
"When you see the ballot for the first time, it can be intimidating. We looked up ballot questions and explained them to make sure students answer the questions. The language can be very confusing," Norman said.
Another event, "What's Next," will be held the day after the election.
"We want to have that conversation the day after the election, so we have to make sure we are there to support students and talk through it. There may be things that people don't understand. And the election may not be decided that night," Stern said.
"We offered this to students as nonpartisan to teach them to respect others who have different opinions. We wanted to build community by creating this platform."

— Frank Stern, Penn State Abington
The nonpartisan nature of the Abington Votes and Be A Voter campaigns was important to Stern and Norman.
"We offered this to students as nonpartisan to teach them to respect others who have different opinions. We wanted to build community by creating this platform," Stern said.
"Our messaging has been consistent all along: VOTE for something. We're not going to tell you who to vote for, I just care that you vote," Norman said.
Beth Bradley, associate director of Student Affairs and director of SEAL, said such programs empower students.
"Students understand and participate in civic engagement, to learn, in this case, how to vote, what the issues are that can greatly impact their communities, and how to use their voices for change. Abington Votes and our Be A Voter campaign events provide dynamic, nonpartisan opportunities for education, discussion and action," she said.
Stern initially thought the project would be challenging because the stereotype is that young people don't vote.
"It was a surprise, though, in terms of students' passions and how they shared their role in the importance of democracy so eloquently. I expected to hear I don't care, etc. What I heard were sharp, defined messages about why voting matters. Those students talk to other students about voting because this is a community. It matters when students say it," he said.
For Norman, seeing young people get involved is exciting.
"How do we keep the energy alive? Let's funnel that excitement into raw votes. Let's have students make their own decisions and have them be free thinkers," he said.
About Penn State Abington
Penn State Abington provides an affordable, accessible and high-impact education resulting in the success of a diverse student body. It is committed to student success through innovative approaches to 21st-century public higher education within a world-class research university. With nearly 4,000 students, Penn State Abington is a residential campus that offers baccalaureate degrees in 22 majors, undergraduate research, the Schreyer Honors College, NCAA Division III athletics and more.