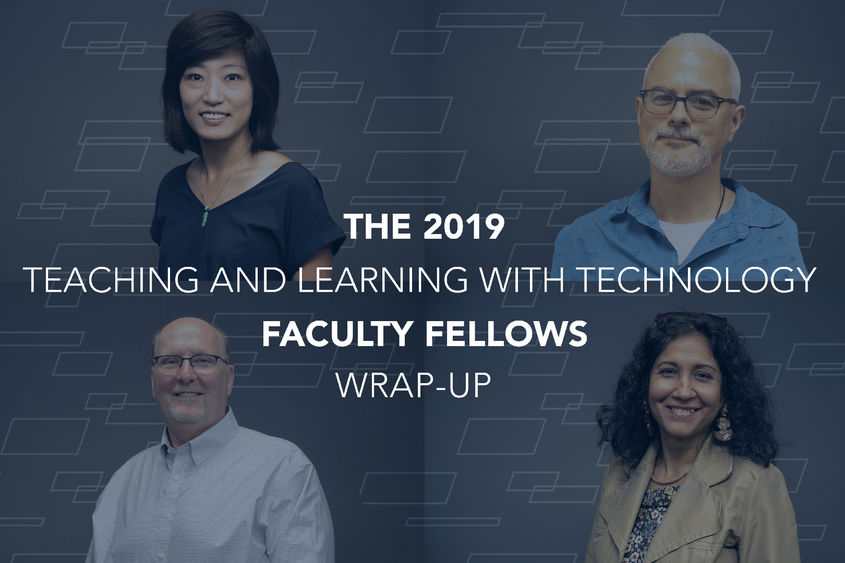 UNIVERSITY PARK, Pa. – Last academic year, four Penn State instructors worked with teams from Teaching and Learning with Technology (TLT) to enhance the spaces where students learn. With preparations underway for the new academic year, the most recent cohort of TLT Faculty Fellows; Ed Glantz, Siu Ling (Pansy) Leung, Pierce Salguero and Priya Sharma can share lessons learned from their work.
Ed Glantz – "Personalizing Learning Spaces by Streaming and Recording Lectures"
Glantz, a teaching professor and assistant director of masters programs in the College of Information Sciences and Technology (IST), utilized his fellowship to explore best practices in recording classroom lectures and how those recordings can help with reflective teaching. Penn State's resources, particularly Zoom, Kaltura, and Canvas, allowed Glantz and his team to dive deeper into technical requirements and the pedagogical value of recording classroom lectures. Many of their findings helped develop content that is available now.
The group compiled three semesters' worth of recorded course content in face-to-face "residential" and remote synchronous instructional settings. They then found that live session streaming and supplemental recording is feasible in college and general-purpose classroom sections of up to 150 students. Additionally, they noted that recorded lectures could supplement student engagement in the event of excused absences.
Glantz's project's implications are being felt in real-time as Penn State faculty and students deal with hybrid learning spaces this fall. One of the most noteworthy findings from the project is the importance of accounting for things like time zone differences and students' technical obstacles (like high-quality wireless access) and their impact on hybrid or remote learning environments. That information has helped inform training that is now available to Penn State faculty.
Siu Ling (Pansy) Leung – "Using Mixed Reality to Prepare Students for Better Laboratory Learning Experiences"
Leung, assistant teaching professor and director of undergraduate laboratories in the Department of Mechanical Engineering, explored how to improve students' learning experiences with virtual labs instead of traditional ones. With assistance from TLT staff, she transformed a machine-based mechanical engineering experiment into two virtual platforms; a desktop version for broad student access, including remote learning, and a virtual reality version for immersive learning.
The virtual experiment included features like student progress tracking through user log-in and data capture, a real-time graphing system for capturing, displaying, and playback of virtual object movement, a linear story around the experiment to help with motivation, and a functioning virtual scientific calculator.
While the focus of Leung's project in the last year was on development, the plan going forward is to implement the virtual experiment in the classroom. Its deployment will support the ongoing need for remote learning and provide opportunities to study how immersive coursework impacts student engagement.
Pierce Salguero – "Expanding the Asian Studies Classroom Through Virtual Learning Spaces"
Salguero, associate professor of Asian history and religious studies at Penn State Abington, used immersive technology to build upon an ongoing pedagogical project that educates students on Japanese Buddhist temples without the expense of travel. He and his team also worked toward improving students' digital fluency by having them produce immersive content.
Through technical and pedagogical training in filmmaking, editing, and publication of 360-degree video, students and faculty were able to perform immersive, ethnographic fieldwork in Philadelphia-area temples. The training and fieldwork provided the foundation upon which Salguero's team developed pedagogical supports, including lesson plans, to assist faculty in any discipline in their efforts to incorporate multimedia in their coursework.
The coronavirus pandemic paused Salguero's planned travel to Japan to collect immersive content as the foundation of virtual field trips to Japanese temples. He hopes to resume that work when conditions permit.
Priya Sharma – "Reconceptualizing Places of Learning"
Sharma, associate professor in the College of Education, and her team dove deep into literature and empirical research to search for evidence on how to create learning places instead of learning spaces. The theory that launched her project was that learning spaces are arrangements of objects, tools, learners and instructors within a geometrical area while a learning place centers around a lived, personalized experience.
After reading approximately 50 published works on learning places and spaces, Sharma's group found that the concepts are typically treated interchangeably. It also became apparent that the discussion of learning places and spaces rarely includes an online learning component. They were able to identify some distinguishable characteristics between "place" and "space" that could help inform how learning spaces are designed to create a sense of belonging and community that makes it a learning place.
Sharma plans to continue her work by researching courses that take place in experimental classrooms at University Park, and by examining online communities for elements of "place."