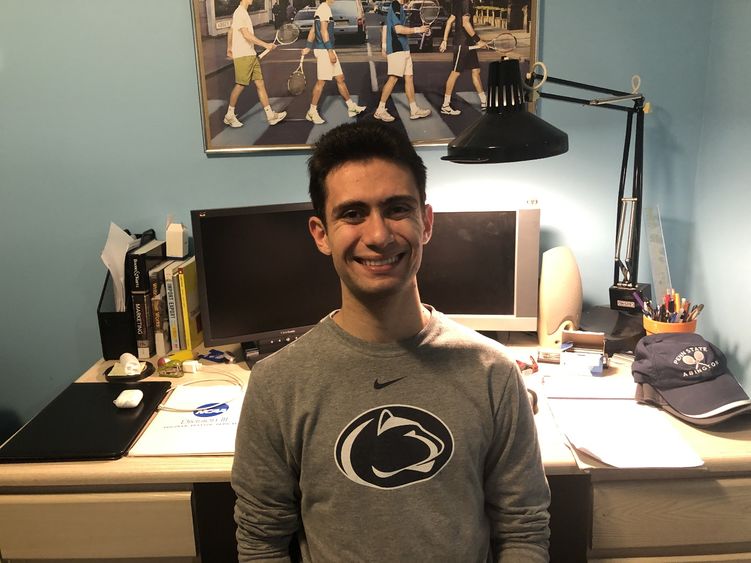 Michael Litz graduated from Penn State Abington last week with a stellar resume. He was valedictorian and boasted a long list of service and athletic accomplishments along with a key internship that, despite the coronavirus pandemic, turned into his first post-college job.
Litz secured the internship last summer with Chubb, a global provider of insurance products, with support from Jeremy Lessard, assistant director of the college's Center for Career and Professional Development. 
"Michael and I met multiple times to discuss the best ways he could leverage networking with Chubb on LinkedIn to help obtain the internship as well as how to make a great impression on his supervisors and colleagues during his internship," Lessard said. "Michael's excellent work ethic, great personality, involvement in campus groups, and willingness to apply the tips we reviewed were key to his success in landing a fantastic full-time role at Chubb." 
Litz, who will work as a risk analyst, advises current students to find internships.
"Being an intern allowed me to learn about the work of my department as well as the company as a whole and ask questions in a comfortable setting. My internship also gave me the opportunity to apply what I was learning in my classes," he said. 
While he was polishing his professional skills, Litz also shined on campus. Academically, he was a Schreyer Honors College scholar and had the highest GPA in the Class of 2020. 
Outside of the classroom, he made an impact, too, earning Abington's 2020 Eric A. and Josephine S. Walker Award for his character, scholarship, leadership, and citizenship.
Litz was one of the most prolific tennis players in Abington's NCAA Division III program. He was the only tennis player to be named North Eastern Athletic Conference (NEAC) Player of the Year three times with 28 career wins in singles action and 24 wins in doubles play.  Over his career, Litz has earned a litany of awards including three-time First Team All-Conference, NEAC Scholar Athlete, NEAC Rookie of the Year, and Philadelphia Inquirer All-Academic Team.
Litz was heavily involved at all levels of the Student-Athlete Advisory Committee (SAAC), where he represents thousands of student athletes across two conferences. He attended two NCAA Conventions (Orlando in 2019 and Anaheim in 2020) and traveled to the NCAA headquarters in Indianapolis for quarterly meetings.
"I serve as the president of Abington's SAAC, chair of the conference SAAC, and as a primary member of the National Division III SAAC. I have met many different people at each level of SAAC, and I've learned so much in listening to their experiences and perspectives," Litz, who also held two jobs, said. "My SAAC experiences have helped me develop and improve so many skills, including leadership, networking, communication, and decision-making."
He was a member of the Student Initiated Fee Board, where the committee members are responsible for the allocation and budgeting of approximately $1 million for student organizations on campus. He is also a Lion Ambassador.
"A go-getter and creative problem solver at heart, Mike is enthusiastic about learning, takes pride in his work, and he is committed to excellence and achievement. He is intellectually curious and determined, which will influence his post-graduate success. I'm excited about his future," Ernest Ntiamoah, Enrollment Management Counselor and Lion Ambassador coordinator, said.
As he leaves campus after a jam-packed four years, Litz has no regrets.
"I've shared so many laughs, meals, and memories with so many friends, professors, alumni, and administrators. I'm thankful for all that Abington has done for me and for the opportunities Abington has provided me. The collection of experiences I've been fortunate enough to create at Abington will forever remain with me," he said.
About Penn State Abington
Penn State Abington provides an affordable, accessible and high-impact education resulting in the success of a diverse student body. It is committed to student success through innovative approaches to 21st-century public higher education within a world-class research university. With about 3,700 students, Penn State Abington is a residential campus that offers baccalaureate degrees in 21 majors, undergraduate research, the Schreyer honors program, NCAA Division III athletics, and more.