Ceremony to begin online at 2 p.m. on May 9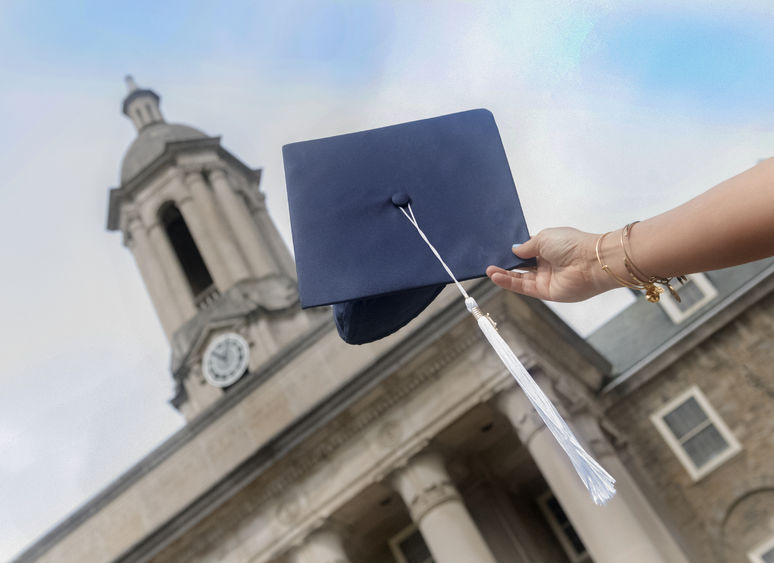 UNIVERSITY PARK, Pa. — University officials have set the time and online place to watch Penn State's Class of 2020 virtual commencement ceremony. At 2 p.m. on Saturday, May 9, the University will host its first virtual commencement. The ceremony will be livestreamed, and available internationally, at https://spring2020.commencement.psu.edu/.
In celebration of the completion of the academic experience of more than 14,000 Penn State students during this global pandemic, this virtual ceremony is the first step in recognizing the Class of 2020. The University also has committed to having students and their families return for in-person celebrations when public health guidelines allow. Potential dates, logistics and activities for in-person recognition are currently being explored. As more information is known about the spread of COVID-19 and the continued need for social distancing, the University will be able to provide more details.
The livestreamed ceremony on May 9, created in consultation with student leaders, will involve traditional ceremonial components, including formal remarks and conferral of degrees for undergraduate students at University Park and all Commonwealth Campuses, as well as for graduate students in The Graduate School. The University understands some graduates and their friends and families may not have the opportunity to return to their campus, for reasons that include a return to home countries, or new jobs that do not enable them to travel or for some families facing economic hardship. A virtual ceremony provides an opportunity for every deserving graduate, including those who will not have the opportunity to return to their campus, to mark this occasion and personal milestone.
Following the completion of the livestream ceremony, graduates, friends and families may view webpages created for each college and campus for an experience tailored more specifically to those communities of learning, including individual student recognition with shareable digital slides.
"Commencement marks a significant moment in the lives of our students," said Barb Ettaro, director of Campus and Community Events. "Even during this difficult and uncertain time, we believe that virtually recognizing this accomplishment is a way to honor all graduates. We look forward to this virtual gathering to celebrate the Class of 2020, as well as a future in-person gathering for those who can return to campus."
Graduates are encouraged to share photos of their in-home celebrations on social media using the hashtag #PSUgrad.