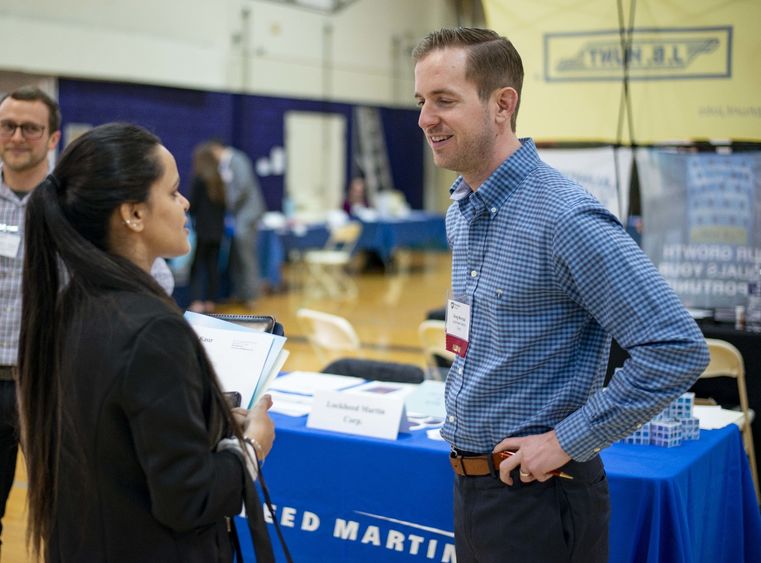 ABINGTON, Pa. — Decked out in their best professional attire and with resumes fresh off the printer, Penn State Abington students attended the annual spring Career Expo this week. The event, organized by the college's Center for Career and Professional Development, provided opportunities to network with about 100 firms for internships and full- and part-time positions.
Lockheed Martin, a Fortune 500 company, is a global aerospace, defense, security, and advanced technologies business. It makes the Abington Career Expo a regular stop on its recruiting circuit.  
"The students at Abington have a real excitement for engagement in next-gen technology. It's encouraging and exciting to meet them," Greg Morozzi, a multifunctional engineering and science manager at Lockheed Martin and a Penn State alumnus, said.
Universal Health Services is a recurring visitor to the Career Expo, too. Corporate recruiter Jill McGovern represented the company, one of the nation's largest providers of hospital and healthcare services.
"Students can use their degrees to help people at Universal. It's a shared value proposition. We assist people and families providing health care. We are a community, and we know the curriculum at Penn State Abington," McGovern said. "Universal Health is a Fortune 500 company, but it's like a family run company. It's a smaller work environment, and this is a smaller college so we have shared values."
Students said working with the Abington Center for Career and Professional Development is key to a successful experience at the fair. The staff advises them on researching and targeting specific companies and developing a resume and talking points. 
Allison Barr, a junior corporate communication major, attended the expo searching for a summer internship. She credited Karen Carli, internship counselor and associate coordinator in the Center for Career and Professional Development, for preparing her to meet potential employers.
"Karen Carli helped me edit my resume so that I felt comfortable coming to the Career Expo," Barr said. "This experience gave me some practice with networking with people."
All Penn State Abington students and recent graduates have access to the college's Center for Career and Professional Development. Services available throughout the year include:
Meeting with a counselor to help choose a major or career.
Accessing tools to help find an internship or job.
Attending events and programs to build skills and branding.
Connecting with employers and Penn State alumni.
Earning credit for an internship.
The weeks prior to the spring and fall career expos are dubbed Career Weeks, when specific workshops are offered to prepare students for their experience. The Career Closet, which provides steeply discounted professional attire for interviews, is also available throughout the year and during Career Weeks.
About Penn State Abington
Penn State Abington provides an affordable, accessible and high-impact education resulting in the success of a diverse student body. It is committed to student success through innovative approaches to 21st-century public higher education within a world-class research university. With about 3,700 students, Penn State Abington is a residential campus that offers baccalaureate degrees in 21 majors, undergraduate research, the Schreyer honors program, NCAA Division III athletics, and more.