University also comes in among top-producing institutions for student awardees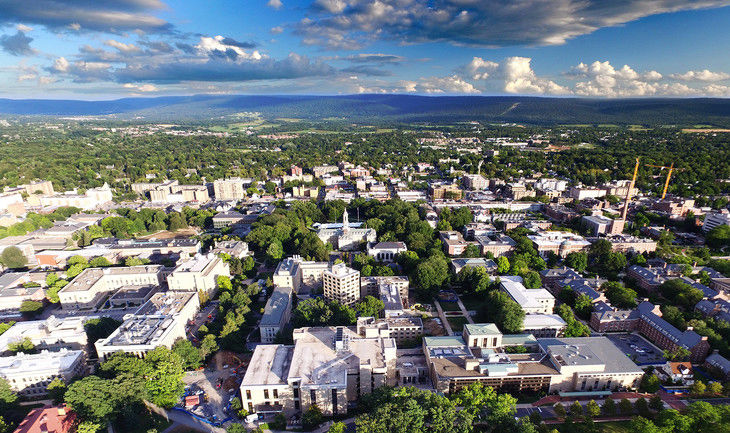 UNIVERSITY PARK, Pa. — Penn State has been recognized as the top U.S. producer of faculty Fulbright Scholars by the U.S. Department of State's Bureau of Educational and Cultural Affairs. Thirteen Penn State faculty received Fulbright Program awards for 2019-20, according to The Chronicle of Higher Education, who published the annual list of the top-producing institutions on Feb. 9.
In addition, the University is listed as a top producer of student Fulbright recipients, tied for No. 40 with 10 Penn State students receiving Fulbright awards in 2019-20.
The Fulbright Program is the U.S. government's flagship international educational exchange program.
"Having the most Fulbright U.S. Scholars among doctoral institutions is an honor for Penn State," said Nick Jones, executive vice president and provost of the University. "I congratulate these 13 scholars for their achievements, which showcase Penn State's exemplary faculty and their commitment to impactful research and teaching."
Penn State's Faculty Fulbright Scholars for 2019-20 are:
Lee Ann Banaszak, professor of political science, and women's, gender, and sexuality studies, College of the Liberal Arts; host country: Australia.

Lara Fowler, Penn State Law and Institutes of Energy and the Environment; host country: Sweden.

Russell Frank, associate professor of journalism, College of Communications; host institutions: Aristotle University in Thessaloniki, Greece.

Elizabeth Kadetsky, associate professor, creative writing, College of the Liberal Arts; host country: India.

Cristin Millett, professor of art, College of Arts and Architecture; host country: Australia.

Elizabeth Ransom, associate professor, School of International Affairs; Global Scholar Award.

Ricky Bates, professor, College of Agricultural Sciences; host country: Cambodia.

Enrique del Castillo, distinguished professor, College of Engineering; host country: Portugal.

Carter Hunt, assistant professor, College of Health and Human Development; host country: Ecuador.

Benjamin Lear, associate professor, Eberly College of Science; host country: Finland.

Catherine Wanner, professor, College of the Liberal Arts; host country: Ukraine.

Tineka Lebrun, Global Programs; Administrative Seminar, India.

Salar Ghahramani, associate professor, Penn State Abington; Invited Scholar and Fulbright Specialist, Royal University of Law and Economics, Cambodia.
The Fulbright Program was created to increase mutual understanding between the people of the United States and the people of other countries. The primary source of funding for the Fulbright Program is an annual appropriation made by the U.S. Congress to the U.S. Department of State's Bureau of Educational and Cultural Affairs. Over 2,200 U.S. Students and over 900 U.S. college and university faculty and administrators are awarded Fulbright grants annually. In addition, some 4,000 Fulbright Foreign Students and Visiting Scholars come to the United States annually to study, lecture, conduct research, or teach their native language.
"The Fulbright program creates opportunities for teaching and research critical to a faculty's professional development in addition to opportunities for soft diplomacy," said Sylvester Osagie, director of campus engagement in Global Programs' Strategic Initiatives office. Osagie oversees the University's Faculty Fulbright program. "Faculty leverage the full intellectual capital gained from the program for personal, professional, and institutional benefit."
Since its inception in 1946, the Fulbright Program has given over 390,000 students, scholars, teachers, artists, and professionals of all backgrounds and fields the opportunity to study, teach and conduct research, exchange ideas, and contribute to finding solutions to important international problems.