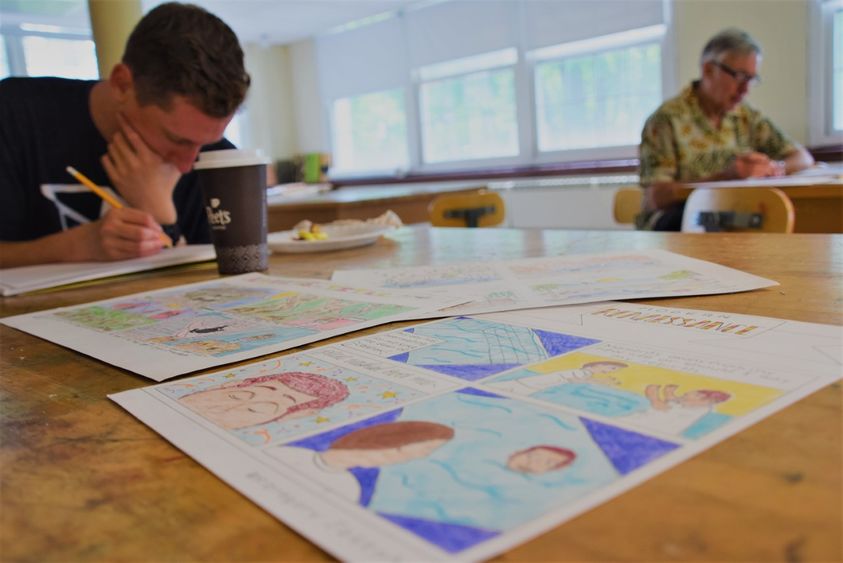 ABINGTON, Pa. — The men sit hunched over notebooks, engrossed in their work, with the tools of the trade spread out before them: ink, colored pencils, crayons and watercolors. These Penn State Abington students are enrolled in the summer course AA193N: The Craft of Comics, but they aren't creating superheroes. They are telling life stories — their personal stories — through visual narratives. 
The students, none of whom are art majors, are documenting a baptism, an experience in the Marines, a trip to Israel, and lifelong dreams. During the spring 2019 iteration of the course, students tackled topics such as anorexia and the political crisis in Venezuela.
Emily Steinberg, lecturer in fine art at Abington, said her students spent a great deal of time understanding how to develop a long-form visual narrative. 
"They learn how sequential art tells a story that is evocative of that particular moment in time," she said. "We use techniques from cinematography like changing angles and panning."
The process starts with a focus on editing and revising. The students write up lists of seven impactful moments from their lives. When they find one that has a "lot of juice," Steinberg said, they answer questions about it and then narrow it down to write the story they are going to tell in comic form. 
"We look at each page as a composition. We discuss proportions of words to images and how to make the story flow smoothly," Steinberg said. "They learn how to divide a story pictorially by creating a map and thumbnail drawings."
The Craft of Comics course helps refine communications skills as well as creative, critical and analytical thinking. And for Steinberg, it goes beyond those educational objectives. 
"My goal is to get everyone to reconnect with that impulse they had as a kid where they would draw and add words and not look at another person's work and think, 'Mine isn't as good,'" she said. 
Steinberg is amazed at the adeptness her students have developed around telling stories through the comic art form. 
"Everyone has a story, a particular unique lens, and I am constantly amazed at the unique particular lens these students look through," she said. "These stories cut to the psyche of their lives." 
About Penn State Abington 
Penn State Abington provides an affordable, accessible, and high-impact education resulting in the success of a diverse student body. It is committed to student success through innovative approaches to 21st century public higher education within a world-class research university. With nearly 4,000 students, Penn State Abington is a residential campus that offers baccalaureate degrees in 19 majors, undergraduate research, the Schreyer honors program, NCAA Division III athletics, and more. Learn more at abington.psu.edu