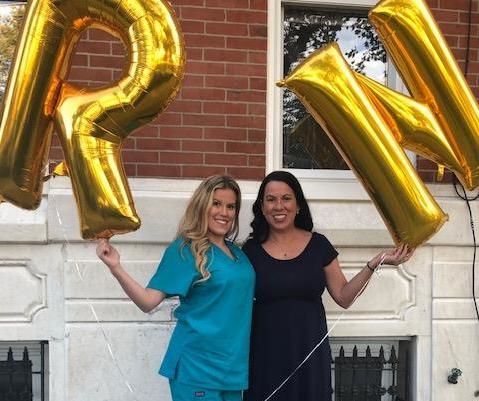 ABINGTON, Pa. — Justine Livewell doesn't remember what sparked her interest in nursing. She just knows that she always wanted to be a nurse and even chose her high school because it had the Health Occupation Students of America program. She went on to major in nursing in college.
But as a young, single mother with no support system, Justine struggled with the demands of the nursing curriculum. She switched her major to social work.
As a social worker she dealt with health care issues, assessing clients for services for the Philadelphia Corporation for Aging and for the Social Services Department at Temple Health Northeastern Hospital. Justine still dreamed of becoming a nurse, but for a long time she did not have the opportunity to pursue it.
Flash forward to daughter Michaella Livewell who, like her mother, fell in love with the field of nursing. Michaella attended the Aria School of Nursing to earn her nursing diploma and RN license. She chose Aria because of its Nursing Collaborative, a nearly 40-year partnership with Penn State Abington that facilitates a seamless transition into Penn State's RN to B.S.N. program.
Michaella knew that earning her bachelor of science in nursing would give her more opportunities for employment, particularly in Philadelphia where she lives, since many hospitals in the city want new hires to have their B.S.N. She also felt confident that Penn State's reputation in the professional world would open more doors for her.
Starting her first job as an RN while taking four B.S.N. courses was challenging, Michaella admits. But she is grateful for the flexibility of the hybrid course offerings, which combine in-class and online instruction. She felt that her Penn State classes had clearly defined expectations, realistic objectives, and interesting assignments. Classes emphasized writing-focused assignments similar to those required at the graduate level.
"I wholeheartedly feel prepared for graduate school because of my B.S.N. experience," Michaella, who works at Jefferson Torresdale Hospital, said.
Michaella may have been inspired by her mother's nursing dreams, but it was Michaella who inspired Justine to return to nursing school.
"[Michaella] has been supportive of my returning to school every step of the way," Justine, who works at Temple University Hospital, said.
Michaella advised mom to work ahead and gave her time management tips, but she acknowledges: "My mother has managed life as a single mom, working, achieving a bachelor's degree in social work, helping other family members, and running a household. If anyone is prepared for a strict, demanding, balancing between roles in life, it is my mother."
Justine is thankful that she has been able to go through the journey with her daughter.
"We both had a live-in support system: Someone to discuss the stresses of a nursing exam and the demands of our clinical nursing rotations with, to study with, and a shoulder to cry on," Justine said.
"This program has brought us closer," said Michaella, "and nothing will surpass the experience of being able to pin my mother on March 4, 2019, upon her RN diploma graduation…I cannot imagine a person more deserving of her success."
Justine will start the Penn State Abington RN to B.S.N. program in May.
About Penn State College of Nursing's RN to B.S.N. Program at Abington
The RN to B.S.N. program at Penn State Abington is available on campus and at multiple sites across the region. The program can also be brought to your healthcare facility. Hybrid, evening, and Friday classes are available to accommodate the schedules of busy RNs. To be eligible for the program, you must be a licensed nurse who has earned either an associate degree or a diploma in nursing. Earn up to 33 credits by portfolio assessment of your RN license.
In addition to the B.S.N. degree program, Penn State Abington offers noncredit health care certification and training courses and Continuing Nurse Education (CNE) opportunities. Contact Randy Ingbritsen for upcoming CNE workshops and any other questions.
About Penn State Abington
Penn State Abington provides an affordable, accessible, and high-impact education resulting in the success of a diverse student body. It is committed to student success through innovative approaches to 21st-century public higher education within a world-class research university. With nearly 4,000 students, Penn State Abington is a residential campus that offers baccalaureate degrees in 19 majors, undergraduate research, the Schreyer honors program, NCAA Division III athletics, and more.