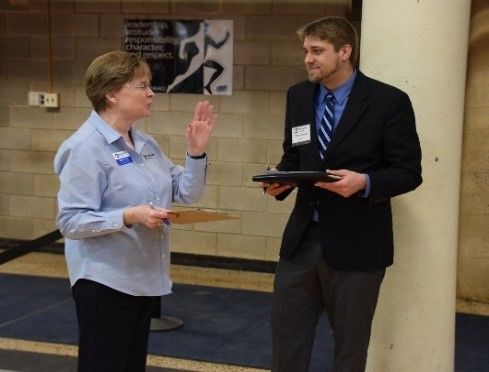 The Penn State Abington Spring Career Expo, organized by the Abington Center for Career & Professional Development, recently hosted almost 100 firms seeking interns and employees. Sean Kelly, an intern in Abington's Office of Strategic Communications & Community Engagement, offers his perspective on the Career Expo:
As a senior with less than 40 days until graduation, there is a strong press forward for myself as well as my classmates to find employment. Regardless of our major or our career preferences, mixing schoolwork, personal work, and the hunt for a job together will be stressful for anyone.
That is why the Career Expo at Penn State Abington is so helpful to students. We get dressed up in our suits, sometimes sweating in them, nervous about talking to potential employers, but we do it, because we know we cannot pass up the opportunity that the school has given us.
It is always hard to make that first impression on a company, especially when you're very nervous. That's why it is great to have your classmates around; they provide you with friendly faces, which helps you relax and get ready to seize the opportunity.
Being able to conquer one of the most stressful times of the year with your fellow classmates makes it ten times easier no matter how stressed you really are.
We also are lucky to have such great faculty and the Center for Career & Professional Development to give us the ins and outs of the Career Expo so we are able to get the most out of it. They tell us to be confident and to relax, take a deep breath and greet employers with a firm handshake and a smile. These tips and more make the Career Expo less stressful for all students.
Altogether, it was another successful Career Fair for Abington students, myself especially. Although the stress of finding a full-time job after graduation is not yet relieved, it is a relief knowing that I have already started the process.