Competitive scholarship promotes public service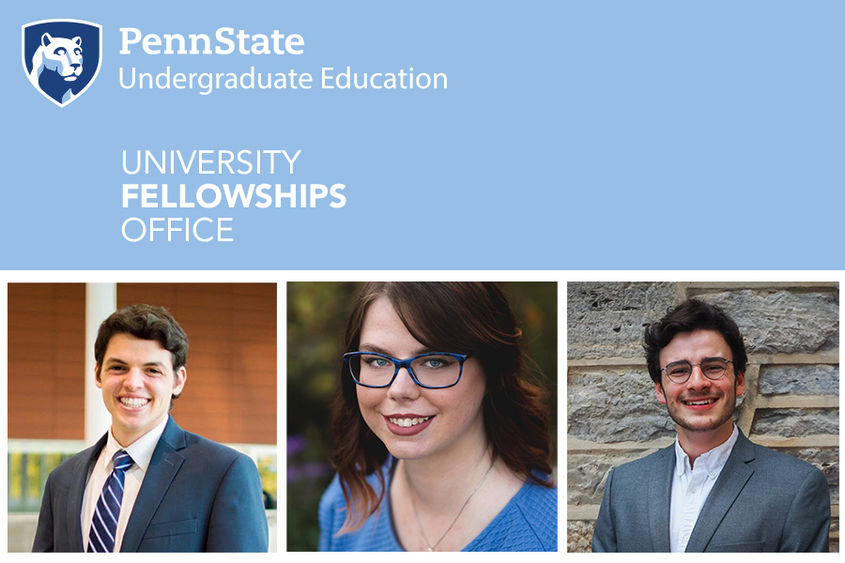 UNIVERSITY PARK, Pa. — The Penn State University Fellowships Office earlier this academic year nominated three outstanding students for the highly competitive Harry S. Truman Scholarship.
The scholarship is managed by the Truman Foundation — an independent federal agency — and provides a $30,000 award for junior undergraduate students to continue education in public service and become what the foundation calls "change agents."
Kira Charles, Raymond Hoy and Daniel Zahn were this year's Penn State nominees.
Charles, 22, of Knoxville, Tennessee, is pursuing a major in rehabilitation and human services at Penn State Abington. Charles has been working with Alumni Relations and Development as a student development specialist, is treasurer of the Student Philanthropy Council and was an orientation leader at Penn State, among many other positions during high school and college.
Hoy, 20, of Conshohocken, Pennsylvania, is majoring in both economics and community, environment and development at the University Park campus. Hoy is a research associate at the Center for Economic and Community Development at Penn State, a Paterno Fellow, is active in Apollo Benefitting THON and other THON-related positions, as well as numerous other volunteer, intern and work positions during his time in high school and college.
Zahn, 20, of Allentown, Pennsylvania, is majoring in English, philosophy and communications arts and sciences at the University Park campus. Among the numerous achievements and held positions, Zahn is a Schreyer Scholar, involved in the Penn State Mock Trial Association as president, the University Park Undergraduate Association and the Presidential Leadership Academy.
As a part of their applications, all three nominees were tasked with providing — in essay form — examples of previous leadership, public service, problems they would like to address when entering public service, the graduate program they would like to pursue, future plans and a policy proposal that would benefit the public.
These students first competed internally with fellow Penn Staters for one of the University's endorsements. For 2019, the Truman Foundation reported they received 840 applications from 346 colleges and universities. The last time a Penn State student won the scholarship was Sara Ryan in 2004.
Selection by the Truman Foundation is based off of records of leadership, public service and academic achievement, according to the website. The 199 finalist candidates will be interviewed in person throughout the month of March and into early April. The winners will be announced on April 17.
In order to apply, students must be a U.S. citizen or a U.S. national from the Pacific Islands; be a college junior with a GPA of 3.7 or higher; plan to attend a professional or graduate school to prepare for a career in government, nonprofit or advocacy sectors; and commit to spending three of the first seven years after graduate or a professional school working in public service.
More than 3,000 Truman Scholarships have been awarded to date.
The University Fellowships Office is part of the Penn State Office of Undergraduate Education, the academic administrative unit that provides leadership and coordination for University-wide programs and initiatives in support of undergraduate teaching and learning at Penn State. Learn more about Undergraduate Education at undergrad.psu.edu. Sign up for UE Headlines for the latest news.