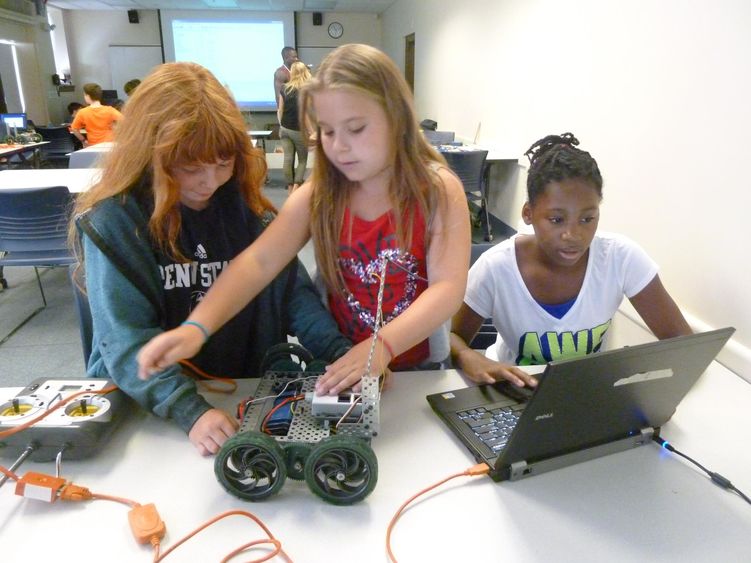 ABINGTON, Pa. — Looking for a unique summer experience for your children and teens? Look no further than Penn State Abington Kids & Teen College. These hands-on camps provide students with an exciting opportunity to continue learning over the summer, develop new skills, or broaden their interests.
Students entering grades three through 12 can participate in a wide range of weeklong experiences. Specialty camp topics include robotics, science, art, writing, and college preparation.
Exploration, critical thinking and hands-on activities are encouraged at Abington. Young scientists in grades three to five can join a fun-filled learning experience in camps such as Backyard Ecology & Sustainability, Full STEAM Ahead, and You Be the Chemist. Young artists are welcome to participate in Creation Station, Pinterest Creations, and Young Authors. For "Harry Potter" and "Star Wars" fans, themed programs are offered.
Campers in grades four to six can enjoy plenty of Lego engineering programs. Abington is offering four weeks of its most popular program, Lego Robotics. Also offered is Lego Stop Motion Animation, where campers can create their own movies and work through a storyboarding process.
Middle school campers are invited to explore, create and learn in a variety of camps geared toward their interests. Science and engineering enthusiasts can enroll in Rocking with Rocketry or Multimedia Design. Fans of art and literature are welcome to join Painting, Drawing & More, Creative Writing Workshop, Anime Explosion, Theatre Workshop, and Book Assemblage Art. Budding law enforcement students should join in the Youth Police Academy, which is a collaboration with the Abington Township Police Department to introduce young people into the careers of police, detective, and emergency services.
For the high school student, Abington offers a number of camps designed to help students explore future career paths and sharpen skill sets. STEM-Math Options for Girls, Public Speaking & Debate Workshop, and Personal Finance are just a few of the camps being offered to spark learning. The new College Readiness program can help high school students hone interview skills, write a resume, and understand the college application process. SAT preparation courses are also held in March and July; registration is currently open for the March session.
With over 30 weeklong programs offered, there is something for everyone. All programs are designed to be both educational and fun and take place on Abington's beautiful wooded campus.
Penn State Abington Kids & Teen College starts the week of June 24 and runs through the week of Aug. 12. Registration is open now. Register by April 12 early to save 10 percent and ensure placement as camps fill up quickly.
To see detailed information on all camps, including dates and prices, go here or contact Alina Raskopin at 215-881-7339 or [email protected].
About Penn State Abington
Penn State Abington provides an affordable, accessible and high-impact education resulting in the success of a diverse student body. It is committed to student success through innovative approaches to 21st-century public higher education within a world-class research university. With nearly 4,000 students, Penn State Abington is a residential campus that offers baccalaureate degrees in 19 majors, undergraduate research, the Schreyer honors program, NCAA Division III athletics and more.