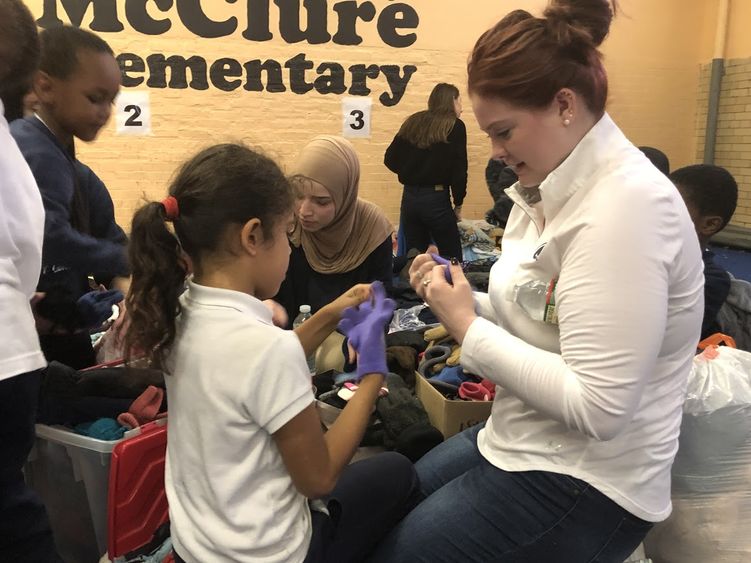 ABINGTON, Pa. — Penn State Abington Elementary and Early Childhood Education majors led a campus-wide drive that collected more than 800 winter coats and other cold weather gear for children and families in need at its partnership school in North Philadelphia.
Sixteen students majoring in Education loaded up cars with items for the Warm Wear Event and headed for McClure Elementary School. About 300 children selected jackets, boots and gloves as Abington students helped them find items for themselves and family members in a dignified shopping experience.
"This allows you to see the need in person, see the kids' reactions, and make connections. It puts more passion in you, and it tells me I am doing exactly what I am supposed to be doing," Abington student Sammy Gonzalez said.
This is the largest number of coats yet that Abington students have collected for this special program.
Abington and its students recognize that barriers to learning can reach far beyond the schoolyard and can include food, housing and clothing insecurity. Abington strives to knock down these barriers for its own students, and they are working to pay that forward through initiatives like the event at McClure.
"Abington teacher candidates discuss meeting the needs of the whole child during lectures, and today they were able to experience this firsthand. The McClure Coat drive offered our students the opportunity to put theory into action," Ann Martinelli, Education Program chair and assistant teaching professor, said.
"Service learning takes teaching to the next level and develops teachers who are able to see not just content but the whole person," said Martinelli. "Our McClure partnership provides Abington teacher candidates with authentic experiences where they get to see pedagogy come alive!" 
Now in its fifth year, the Warm Wear Event is an outgrowth of the partnership between Abington and McClure Elementary. The relationship allows the Abington Education students to gain authentic experiences that help them develop as teachers while McClure receives services that support its high potential but high-need community. In fact, two of Abington's own, Ashley Cardona and Jennifer Nazario, are now teachers at McClure.
Abington education faculty established community partnerships with several elementary schools that reflect the ethnic and socioeconomic diversity of the region. Combining theory and practice, junior-level education majors apply culturally responsive pedagogy in these practicum experiences. Culturally responsive pedagogy is a style of teaching in which the students' cultural strengths are identified and nurtured to advance academic achievement.
Students in the education major work closely with partnership schools, all located in struggling socioeconomic areas. Several times a year, they collaborate:
The Abington students donate time and talent, spending time at the elementary schools observing and teaching mini-lessons.

The children come to Abington to learn about science, writing from popular children's authors, and other topics. Equally important, the children are exposed to a college campus — likely a first for many — and they can begin to visualize their dreams of a college education.

Abington faculty host professional development with experts in literacy, diversity and other specialties for the education majors and invite teachers from the partnership schools to join them.
About Penn State Abington
Penn State Abington provides an affordable, accessible, and high-impact education resulting in the success of a diverse student body. It is committed to student success through innovative approaches to 21st-century public higher education within a world-class research university. With nearly 4,000 students, Penn State Abington is a residential campus that offers baccalaureate degrees in 19 majors, undergraduate research, the Schreyer honors program, NCAA Division III athletics, and more.