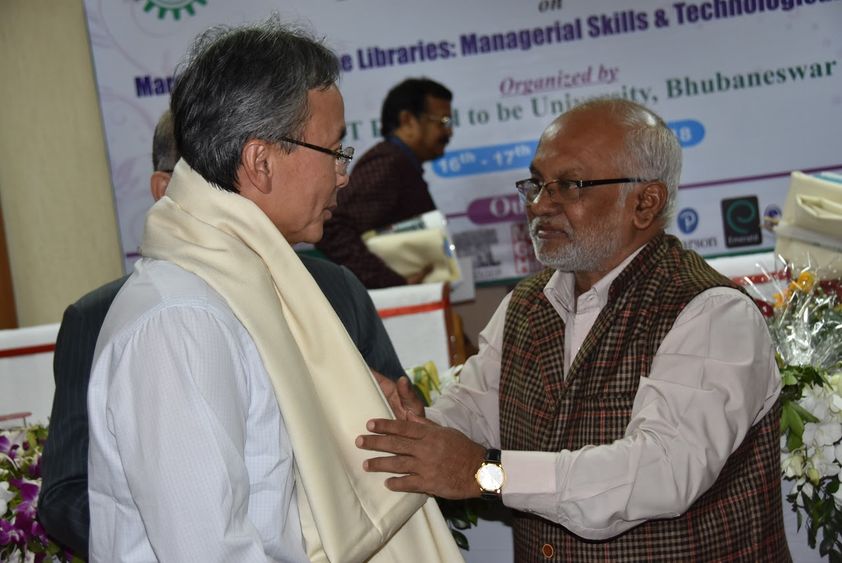 Binh Le was tired. The reference and instruction librarian at Penn State Abington had just returned from presenting his research in Shanghai when yet another conference invitation appeared in his email.
He was somewhat hesitant to take on the rigors of international travel again, but he finally agreed to hop on a plane — actually, four planes and over 30 hours in the air — to Bhubaneswar in southeastern India.
But Le, who arrived only an hour before the conference opened, found that this experience was far different than others.
"Interestingly, unlike the many academic trips that I have taken over the years, this one was more of an academic journey," Le, who has been at Abington since 1988, said.
He was officially there to present his research at the international conference on "Marching Beyond the Libraries: Managerial Skills and Technology Competencies" at the Kalinga Institute of Industrial Technology (KITT).
"Despite the travel challenges, I found this academic journey to be truly special," he said. "Among other things, I received one the warmest greetings that I have ever gotten in my professional life. The colleagues at KITT embraced me as if I am one of their family members, the kind of embraces that I have often received when I returned to Vietnam."
Besides the extraordinary hospitality, Le said the institute where the conference was held and its founder were even more extraordinary. KIIT was started by Achyuta Samata in 1992. He invested virtually all of his life's savings of about $100 on the endeavor despite growing up in abject poverty.
Originally, KIIT was designed to serve as a vocational center, comprised only of two staff members and 12 students. Today, it has 23 campuses with more than 25,000 students, many of whom come from Odisha, one of India's less prosperous states. KIIT offers a multiplicity of degree programs and is now one of the top universities in India.
Samanta also founded the Kalinga Institute of Social Sciences (KISS) to provide tribal children, India's poorest of the poor, with a free education from first to 12th grade. Today, there are about 27,000 students.
"Watching these tribal students playing sports barefoot on a massive red-dirt field — much larger than Beaver Stadium — in the middle of the day at KISS reminds me of my childhood in Vietnam during the war. I understand their experience," Le said.
"They seem very happy being on the field perhaps knowing that the institute provides not only a hunger-free and safe place to play sports but also a free education that will forever alter not only their very own, but also their families' lives once they return to their tribal communities. Visiting KISS was truly an inspirational experience."
About Penn State Abington
Penn State Abington provides an affordable, accessible, and high-impact education resulting in the success of a diverse student body. It is committed to student success through innovative approaches to 21st century public higher education within a world-class research university. With nearly 4,000 students, Penn State Abington is a residential campus that offers baccalaureate degrees in 19 majors, undergraduate research, the Schreyer honors program, NCAA Division III athletics, and more.