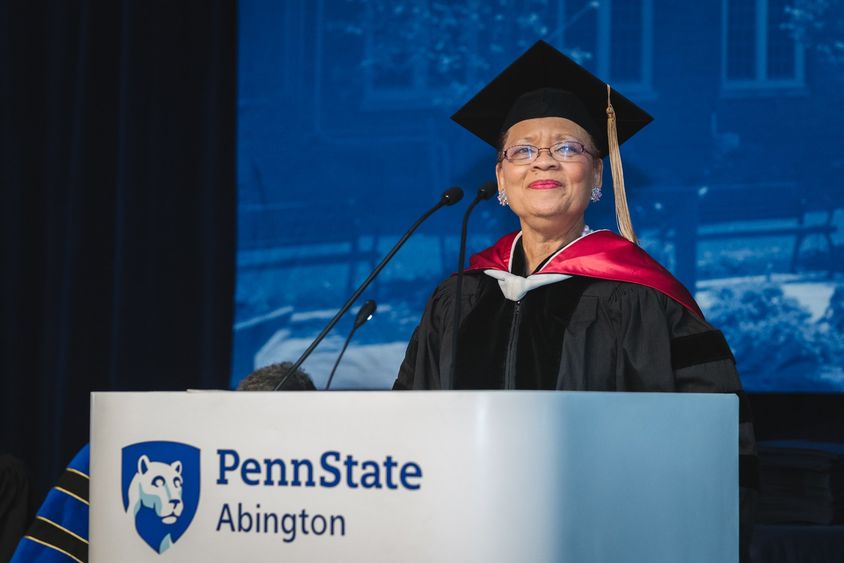 The Rev. Lorina Marshall-Blake, president of the $60 million Independence Blue Cross Foundation and vice president of community affairs at Independence Blue Cross, celebrated more than 300 new Penn State Abington graduates at commencement on Friday.
In her remarks, keynote speaker Marshall-Blake praised the Class of 2018's diversity and noted one of its important commonalities: The chance to apply new skills and knowledge to pursue a calling.
"If you haven't found your calling yet … keep searching. It's there," she told the graduates before delving into three values she believes are crucial to pursuing a calling: servant leadership, community, and courage.
"With the education you've received, you have the opportunity to lead but you also have the obligation to serve. Genuine leaders make things better for others, not just for themselves," she said. "Leadership brings out the best in others. In order to lead, you must serve."
"If the world you're living in worries you, remember that you have the skills, the talent, and the dedication to change it. Let that be a source of courage. And when you find that courage, share it with everyone around you," Marshall-Blake said.
Before conferring the degrees in the campus Athletic Building, Abington Chancellor Damian J. Fernandez assured the graduates that the college will always be part of their shared story.
"May what you learned here carry you forth to contribute in small and big ways to making our national story better. We share a common humanity and a core of national values that connect us all. Ideals that, if embraced, will serve us well. The greatness of America is the promise of those ideals, the promise that their pursuit will redeem us all." 
Fernandez highlighted several graduates during the ceremony with special achievements including: 
Hannah Patel, who earned concurrent degrees, a bachelor of science in criminal justice and a bachelor of arts in psychological and aocial sciences.
Schreyer Honors College medal recipients Giovanni Bradley, an English major, and Kristen Wolfgang. Wolfgang, a biology major, will attend medical school.
And Claire Reeves, a business major with a minor in entrepreneurship & innovation, earned a citation from the Pennsylvania Legislature for her excellence in the classroom, in athletics, and community service.
Find more photos from Penn State Abington summer/fall 2018 Commencement on Facebook.
About Penn State Abington
Penn State Abington provides an affordable, accessible, and high-impact education resulting in the success of a diverse student body. It is committed to student success through innovative approaches to 21st-century public higher education within a world-class research university. With nearly 4,000 students, Penn State Abington is a residential campus that offers baccalaureate degrees in 19 majors, undergraduate research, the Schreyer honors program, NCAA Division III athletics, and more.