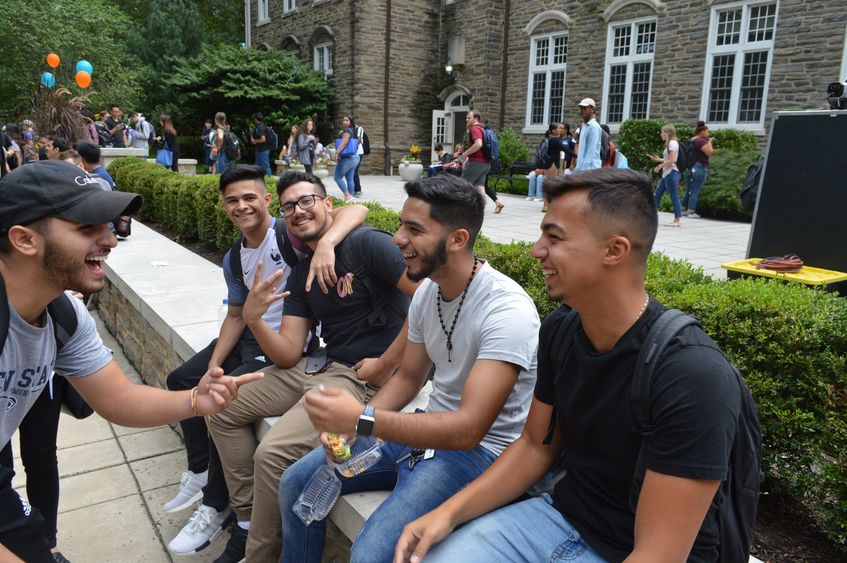 ABINGTON, Pa. — Penn State Abington faculty and staff rallied around the Class of 2022 with a series of events designed to celebrate and motivate them before and during the first week of classes.
Move In Day
Four hundred students from around the world moved into the Lions Gate residence hall.
Academic Convocation and New Student Welcome
Steeped in tradition, the brief early morning convocation ritual set the tone for the academic year and provided a springboard for New Student Welcome sessions, which prepare students for the challenges of college life.
The day's programming included "Zero Shades of Gray: Sexual Assault IS Black and White." The program delivers a high-energy, interactive, engaging and relevant experience that hits the biggest points of how to approach sexual assault for first-year students, teaching the skills necessary to raise awareness, help prevent assault, and become a resource for those in need.
A second session called "GRIT For College Students" was designed to teach students how to increase their personal sense of empowerment, tenacity and perseverance for success.
Students also received advice on how to prepare for their major and received study tips from Library and Abington Learning Success Center staff. And they found out how to plan for future internships and careers from Center for Career and Professional Development staff.
Welcome Week
The ice cream social and Involvement Fair were the centerpieces of Welcome Week. Studies show that students who join organizations and clubs are more likely to earn better grades and demonstrate more persistence toward graduation. Abington's Office of Student Engagement and Leadership (SEAL) offers two days during the first week of classes for groups can recruit students.
Who is the Class of 2022?
Almost 1,200 first-year students.
About 28 percent are the first in their families to attend college.
More than 80 percent receive financial support.
Students hail from 27 states including Hawaii and 20 countries including China.
About Penn State Abington
Penn State Abington provides an affordable, accessible, and high-impact education resulting in the success of a diverse student body. It is committed to student success through innovative approaches to 21st century public higher education within a world-class research university. With nearly 4,000 students, Penn State Abington is a residential campus that offers baccalaureate degrees in 19 majors, undergraduate research, the Schreyer honors program, NCAA Division III athletics and more.