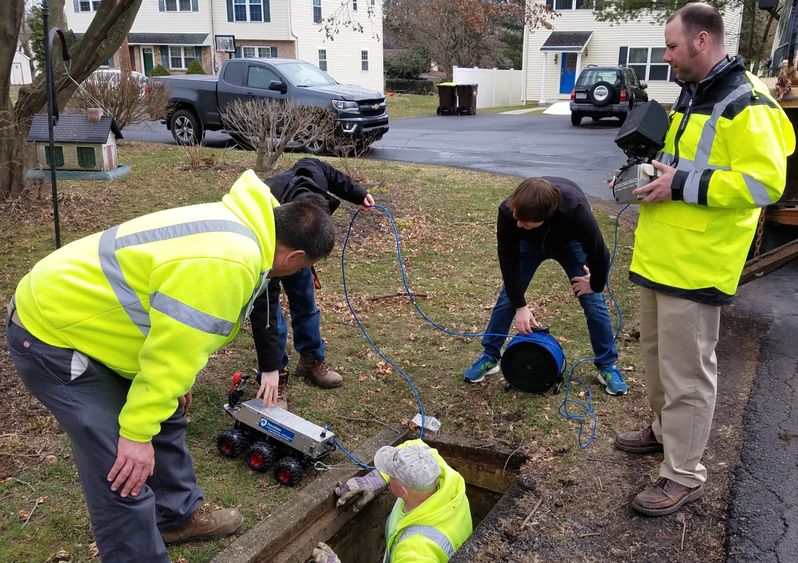 ABINGTON, Pa. — Two years ago, the Public Works Department of Horsham Township, Pennsylvania, became the unofficial "client" of a group of Penn State students enrolled in the Philadelphia regional engineering degree.
The township needed a cost effective and budget friendly alternative to hiring outside contractors to inspect the interior of stormwater pipes and visually identify flaws, defects and damage that could lead to sinkholes and other issues.
The students successfully delivered Stormbot, a custom video inspection robot they built, in the spring of 2016. Stormbot allows the public works staff to examine images and video captured by the robot to determine the exact location of any problems and to decide the best approach to remedy the damage.
Each year since then, students enrolled in subsequent robotics courses taught by Robert Avanzato, associate professor of engineering at Penn State Abington, refine and improve Stormbot based on requests from Horsham Township. This spring, they upgraded its reliability and waterproofing, and improved the ability for the robot to be driven out of the pipe effectively.
The robot was used for inspections in three locations recently, according to Avanzato. 
"Overall, the robot has been performing very well, and the township is very pleased with the results," he said.
"This project is a great opportunity for engineering multidisciplinary design option students in my robotics course to gain real world experience in field testing and operation of a robot," Avanzato continued. "It is also a great example of student and faculty work having an impact on the local community."
Among Stormbot's features:
The robot's camera pans and tilts, returning high-definition video and still images.
A console allows the user to operate the robot and maneuver the camera from above ground.
Workers can review the video transmission live as they search for compromises and obstructions in pipes.
LED lighting supports the video quality and highlights areas workers want to explore further.
An emergency cable is attached in case Stormbot needs to be removed by hand.
Earn a Penn State engineering degree in the Philadelphia region
The multidisciplinary engineering design (MDE) option of the Penn State engineering degree is delivered by a consortium composed of Penn State Abington, Penn State Brandywine, and Penn State Great Valley. Students graduate with a bachelor of science degree from the Penn State College of Engineering.
The $2.5 million engineering facility where students take their final two years of coursework is located at the Great Valley campus, about 30 miles from Abington. Shuttle service from Abington to Great Valley is available.
The general engineering program is accredited by ABET (Accreditation Board for Engineering and Technology).
About Penn State Abington
Penn State Abington offers baccalaureate degrees in 19 majors at its suburban location just north of Philadelphia. Nearly half of its 4,000 students complete all four years at Abington, with opportunities in undergraduate research, the Schreyer honors program, NCAA Division III athletics, and more. Students can start the first two years of more than 160 Penn State majors at Abington and complete their degrees at University Park or another campus.