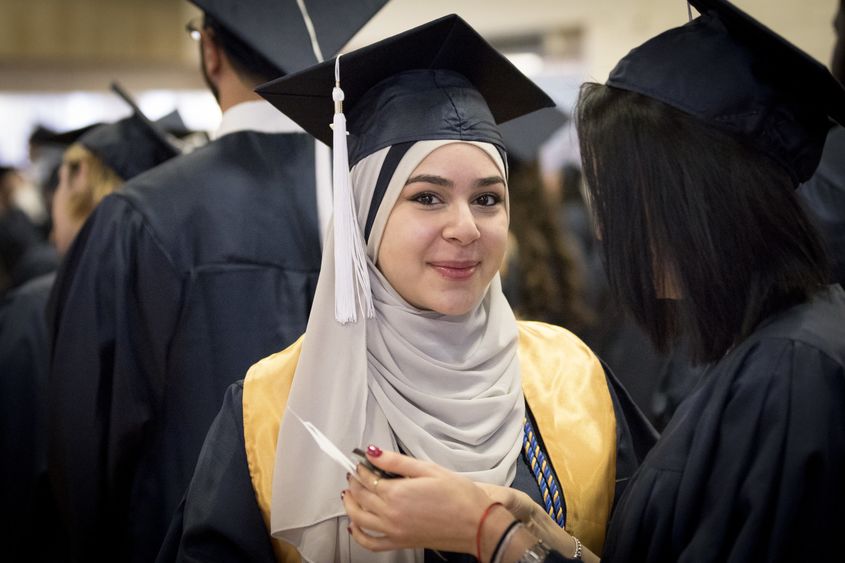 ABINGTON, Pa. — Penn State Abington awarded almost 400 academic degrees at its summer/fall commencement on Friday, Dec. 15.
The Abington College Choir and Chamber Singers opened the ceremony with the old Southern gospel song "I'll Fly Away," which inspired the remarks by Chancellor Damian J. Fernandez. He encouraged the new graduates to aim high, but to prepare for the journey first.
"Take a pause, step back, seek firm ground, allow gravity to pull you inward, look to your past, find a person, someone who can be source of gravitas for you now and into the future. Identify that individual who will serve as a guide for you, a human compass, as you start your journey beyond Abington," Fernandez said.
" ... And when you are ready to take flight, and as you rise, reach out to others, give them a hand, pull them up them along the way, you can — they will not drag you down. On the contrary, only through them will you reach higher ground, only by lifting them will you transcend."
Pioneering news executive and Emmy-Award winner Mary Alice Williams delivered the keynote address, acknowledging the sacrifices made and the challenges to come.
"What you've purchased with your hard work is no ordinary piece of paper," she said. "Your diploma is a passport you can use to continually reinvent yourselves, reposition your families and make lasting contributions to your communities.
"... You have the education and the wisdom and the generational clout to address the great forces at large in the land bent on dividing us. By income and class. Or race or religion. Or gender. Or education or party affiliation. Because you've learned on this campus that united … we're better."
Business major Oshuwa Osiemi, earned the Pennsylvania Legislative Citation from state Rep. Madeleine Dean (D-153). Osiemi, who interned at Yamaha in Los Angeles last year, co-founded the Music Industry Association at Abington as well as participating in the Student Government Association, Lares Entertainment and Programming Board, Abington Christian Fellowship, the AbingTones a cappella group, and serving as treasurer of both the theatre and engineering clubs.
Read about Abington corporate communication major Natalie Haggard's college journey, watch the commencement video, and see more images from the day on Facebook.
Penn State Abington, formerly the Ogontz campus, offers baccalaureate degrees in 19 majors at its suburban location just north of Philadelphia. Nearly half of our 4,000 students complete all four years at Abington, with opportunities in undergraduate research, the Schreyer honors program, NCAA Division III athletics, and more. Students can start the first two years of more than 160 Penn State majors at Abington and complete their degrees at University Park or another campus. Lions Gate, our first residence hall, opened in August 2017.