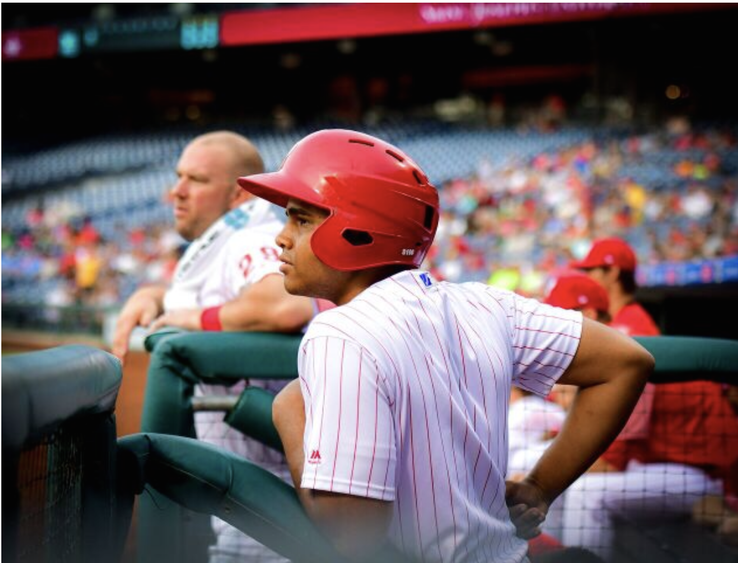 ABINGTON, Pa. — A Penn State Abington freshman's job with the Philadelphia Phillies literally covered all the bases. Serving as the 2017 bat boy was exhilarating and exhausting, and Delvy Francisco learned some valuable life lessons along the baselines.
Twelve-hour days at Citizens Bank Park this season were the norm for the finance major. Before games he prepared equipment in the locker room, dugout and bullpen, and he shagged balls during batting practice. He worked every home game — except one, but it was prom night — and didn't leave until every shoe, water bottle and bat was returned to its proper place.
His favorite part of the job?
"You are the only nonplayer to wear the uniform. There's no other position like being a bat boy in professional sports," Francisco said, smiling at the memory in the Lares Union Building cafeteria. "And the fans know me!"
"The worst part," he grimaced, "is hearing the same music and announcements at every game."
But it's the lessons learned that Francisco will carry with him throughout college and beyond.
"I learned to deal with people from all around the world. The players come from so many cultures, and their personalities are very different, too," the Philadelphia resident said. "It's great to see them getting along. It's a good example."
"You learn the importance of keeping what you see and hear confidential," he continued. "The players are normal people. They trust you, and you want to maintain that trust and gain their respect. When someone is having a hard time, you learn to leave them alone so they can cope with it."
The team's third-base coach, Juan Samuel, became a mentor to Francisco, teaching him about the game from the very first day while also helping him on a personal level. 
And dealing with the fans sometimes tested his interpersonal skills.
"People are always asking you to get players' autographs, but I can't do it for everyone and they don't always appreciate it," he said.
Inside Baseball with Delvy Francisco
Favorite player: Freddie Galvis
Biggest prankster: Hyun-soo Kim
Funniest player/coach: Juan Samuel
Prediction for 2018: The Phillies will be way better. They have a lot of good players in Triple A

 

.
So how did the Dominican Republic-born Francisco snare the coveted position as the Phillies' 2017 bat boy? He started building his resume in high school, and it paid off.
His interest in finance became clear while attending Philadelphia Mercy Career and Technical High School, where he enrolled in the business concentration.
"I worked three jobs in high school, including an insurance company and a bank," he said. "Being bilingual helps with getting jobs."
The high school coordinated an internship program with the Phillies organization and Francisco, on the strength of his existing resume, secured a spot.
"I worked in human resources, and as part of the internship we got to meet staff in all of the different departments," he said. "I made a good impression with the vice president for human resources, and she recommended me for the bat boy position."
Although Francisco is planning for a future beyond bats and balls, look for him next season when you hear "Play ball!" at Citizens Bank Park.
About Penn State Abington
Penn State Abington, formerly the Ogontz campus, offers baccalaureate degrees in 19 majors at its suburban location just north of Philadelphia. Nearly half of its 4,000 students complete all four years at Abington, with opportunities in undergraduate research, the Schreyer honors program, NCAA Division III athletics, and more. Students can start the first two years of more than 160 Penn State majors at Abington and complete their degrees at University Park or another campus.