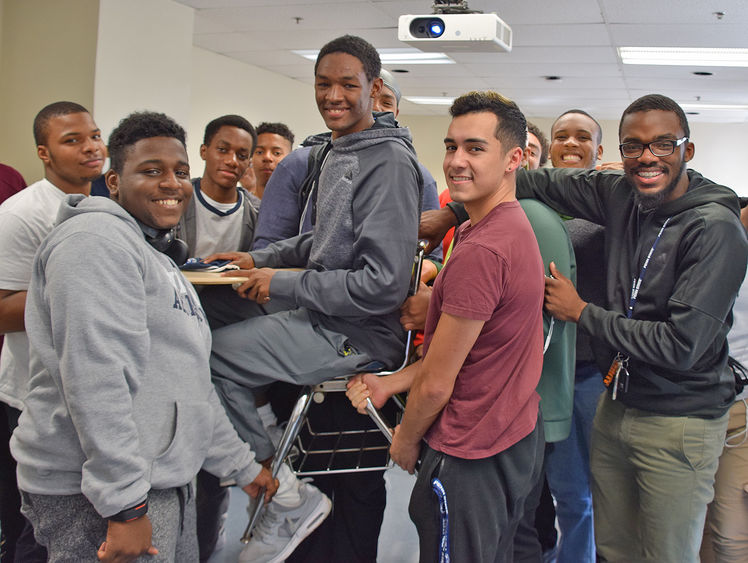 ABINGTON, Pa. — Penn State Abington established the Men of Color Leadership Academy (MOCLA) this fall to provide mentoring and support and ultimately to improve graduation rates.
Information sciences and technology senior Nelson Costa, who volunteers with the program, said his own experience with a mentor at Abington "helped me become the man I am today."
"The students in the program need mentors who are able to help them pursue their academic and professional careers," said Costa. "We can offer these students simple learning skills to use in class, to valuable life lessons for the future."
Christopher J. Walters, coordinator for student success at Abington and adviser to MOCLA, said the key is to start working with the men in their first year of college.
"We want to create camaraderie and provide support," Walters said of the men, about one-third of whom are first-generation college students. "And we want them to support each other, whether it's in sports or academics."
MOCLA was born from the Abington task force charged with reducing the number of students who leave college without graduating. The task force found that men of color struggled the most nationwide at earning their degrees, and took action.
Walters sought to recruit male faculty and staff members of color to join the MOCLA leadership team and was pleased when all accepted. Invitations to join the program were issued to first-year students who self-identified as men of color.
Members meet weekly with Walters, Costa and others on the leadership team. They begin with a motivational exercise that segues into an academic component such as note-taking and study skills or exploring career options. The team also encourages participation in other campus events and programs.
"We want to eventually shift some of the leadership from faculty and staff to students," Walters said. "Ideally, these young men will be mentors next year to incoming first-year students of color."
Student mentor Costa said his life-changing experience with an Abington mentor compelled him to participate in the program.
"Without my mentor, I don't know where I would be. I felt the need to help these incoming first-year students make sure they stay on the right track," said Costa.
A similar program, Sister2Sister, launched at Abington this fall to provide mentoring and support to women of color.
Penn State Abington, formerly the Ogontz campus, offers baccalaureate degrees in 19 majors at its suburban location just north of Philadelphia. Nearly half of its 4,000 students complete all four years at Abington, with opportunities in undergraduate research, the Schreyer honors program, NCAA Division III athletics and more. Students can start the first two years of more than 160 Penn State majors at Abington and complete their degrees at University Park or another campus. Lions Gate, Abington's first residence hall, opened in August 2017.