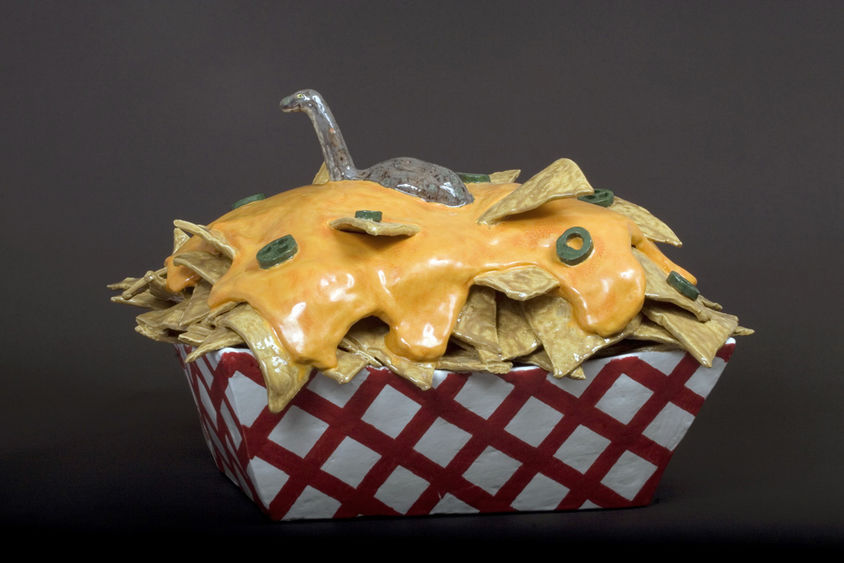 ABINGTON, Pa. — "(Almost) Good Enough to Eat," a solo exhibit of ceramic sculptures by Peter Morgan, is open in the Penn State Abington Art Gallery through Dec. 8.
A reception for Morgan will be held at 1 p.m. Nov. 9 in the gallery, followed by an artist's talk at 1:35 p.m. in the Lares Building's Lubert Commons.
"(Almost) Good Enough to Eat" brings together several years of works from Morgan's ongoing series described as "Food as Landscape." These pieces frequently transport exotic animals from their natural environments to man-made foodscapes. The large-scale ceramic sculptures transform everyday food items into vast landscapes, while conversely shifting massive objects into toy-sized replicas. Through its macro/micro shift, the series morphs the familiar into the grandiose while bringing into question the viewer's position within the universe.
Morgan received a master's degree in fine arts from the New York State College of Ceramics at Alfred University. He has exhibited throughout the United States and Europe. Notable residencies include the Clay Studio and the Archie Bray Foundation. Morgan was the recipient of the 2012 Evelyn Shapiro Foundation Fellowship and was a National Council on Education for the Ceramic Arts Emerging Artist awardee in 2016.
The Penn State Abington Art Gallery hours are:
Monday and Wednesday: 10:30 a.m. to 6 p.m.
Tuesday and Thursday: 9 a.m. to 6 p.m.
Friday: 9 a.m. to 4 p.m.
Saturday: 10 a.m. to 2 p.m.
Penn State Abington, formerly the Ogontz campus, offers baccalaureate degrees in 18 majors at its suburban location just north of Philadelphia. Nearly half of our 4,000 students complete all four years at Abington, with opportunities in undergraduate research, the Schreyer honors program, NCAA Division III athletics, and more. Students can start the first two years of more than 160 Penn State majors at Abington and complete their degrees at University Park or another campus. Lions Gate, our first residence hall, opened in August 2017.