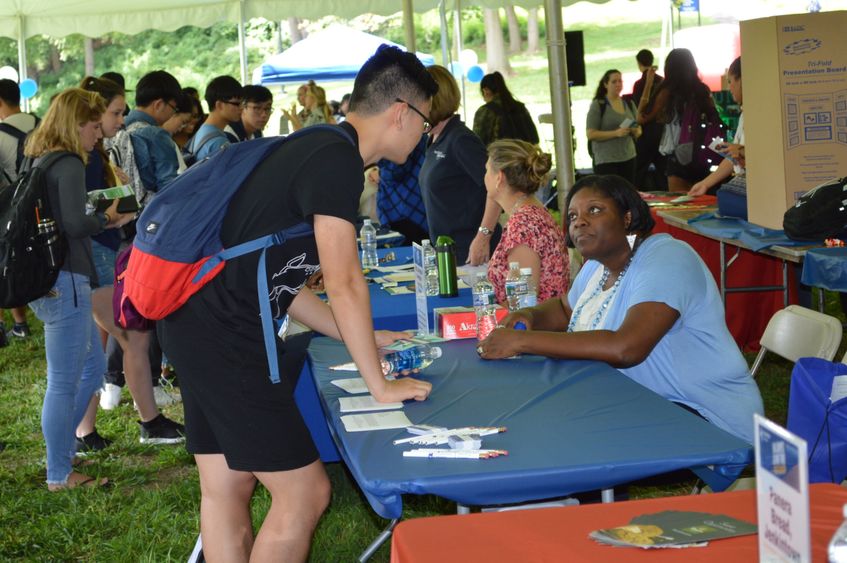 ABINGTON, Pa. — The Penn State Abington Center for Career & Professional Development hosted its first On-Campus & Part-time Employment Fair. It coincided with the fall semester Involvement Fair so students could coordinate opportunities to join clubs and organizations with job hunting.
Tina Vance Knight, director of Career & Professional Development at Abington, led the effort.
"The goal is to help our students gain employment on campus and locally so that they aren't traveling extensively to get to their job, which has a direct impact on their coursework, ability to get involved, and retention," she said. "The ultimate goal for offering the fair is to help students persist to a degree, which an event like this will aid in that process."
Michelle Daly, Employer Engagement Coordinator in the Center for Career & Professional Development, said part-time jobs offer more than money.
"They [the students] can learn on the job," she said. "And if it's close by and convenient, it's less stressful and makes it easier to get to that end goal of their degree."
"Our positions are very flexible and allow the student to have an income while still focusing on school. Target loves being able to help students prepare for a future either with us or in a career with their degree."

— Khadijah Jackson-Bey, Target Abington
"We love working with the students because it's a great opportunity to mentor them for real-world jobs."

—Marie English, Penn State Abington Office of Continuing Education
"We are very accomodating to school schedules. About 80 percent of our employees are part-time because they are students."

— Ellen Neff, Panera

 
Penn State Abington, formerly the Ogontz campus, offers baccalaureate degrees in 18 majors at its suburban location just north of Philadelphia. Nearly half of our 4,000 students complete all four years at Abington, with opportunities in undergraduate research, the Schreyer honors program, NCAA Division III athletics, and more. Students can start the first two years of more than 160 Penn State majors at Abington and complete their degrees at University Park or another campus. Lions Gate, our first residence hall, opened in August 2017.
Additional reporting by Penn State Abington senior Natalie Haggard.