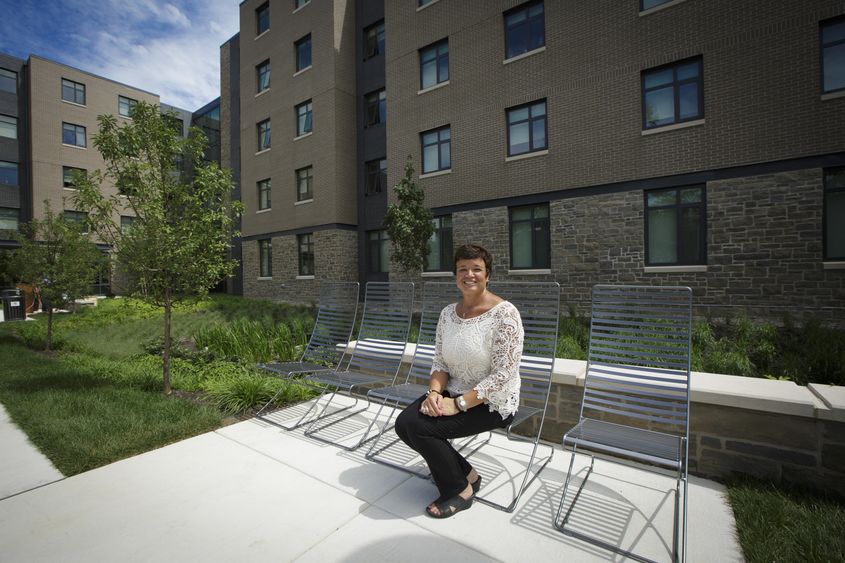 ABINGTON, Pa. — Holly Green, a 1987 Penn State architectural engineering graduate, knocked another item off her professional bucket list last week, a project for her alma mater. The Turner Construction Co. project engineer marked the completion of the Lions Gate Apartment Community at Penn State Abington.
Q: How did you choose engineering as a career?
Green: I excelled in science and math in high school, but I was also drawn to design, art, and aesthetics. My grandmother created electronic connector prototypes from sketches and customer input. She suggested engineering and helped me find architectural engineering.
At the end of my third year in college, I had an engineering design internship but spending the majority of my time interfacing with a computer and limited time working with people wasn't for me. So upon my return to Penn State, I selected construction management.
"When we found out we got the Penn State Abington project, it felt like I was coming full circle."

— Holly Green, Turner Construction Co. and Penn State alumna
Q: What was it like being one of the few women engineers in the early days of your career?
Green: When I started, it was tough being a young female. I was an onsite superintendent managing trades for my first five years. I quickly learned how to address 'What do you know, you just got out of college?'; assumptions that I was an administrative assistant; and 'Is the superintendent or someone who can help around?' The upside to being the only female onsite, once workers realized I knew what I was doing, word spread quickly.
I have often described it as substitute teacher syndrome — just like students, people see what you will and won't tolerate. So it is important to establish what needs to be done, what is acceptable behavior, and then be consistent.
When I started in the industry, I was often the only female on a project with only a handful of women in my role working for Turner Philadelphia. This really didn't change until about approximately 15 years ago. Today, it is exciting that people entering the industry are more reflective of the total population.
Q: What does it mean to you to work on a Penn State project?
Green: When I started in the industry, I made a bucket list of project types I wanted. I have been fortunate enough to construct hospitals, lab/research facilities, sporting facilities, and offices. I got to every project on my list except two, a project for my alma mater and a museum/arts building.
Two years ago when I delivered the presentation for the Abington project, I was more nervous than I have been in years about presenting. This was a project I really wanted to do.
When we found out we got the project, it felt like I was coming full circle. One of the design team members for the project, lived four doors down the hall from me in Beam Hall. Just goes to show that Penn State architects and engineers are everywhere.
+++++++++++++++++++++++++++++++++++++++++++++++++++++++
Penn State Abington, formerly the Ogontz campus, offers baccalaureate degrees in 18 majors at its suburban location just north of Philadelphia. Nearly half of our 4,000 students complete all four years at Abington, with opportunities in undergraduate research, the Schreyer honors program, NCAA Division III athletics, and more. Students can start the first two years of more than 160 Penn State majors at Abington and complete their degrees at University Park or another campus. Lions Gate, our first residence hall, opened in August 2017.