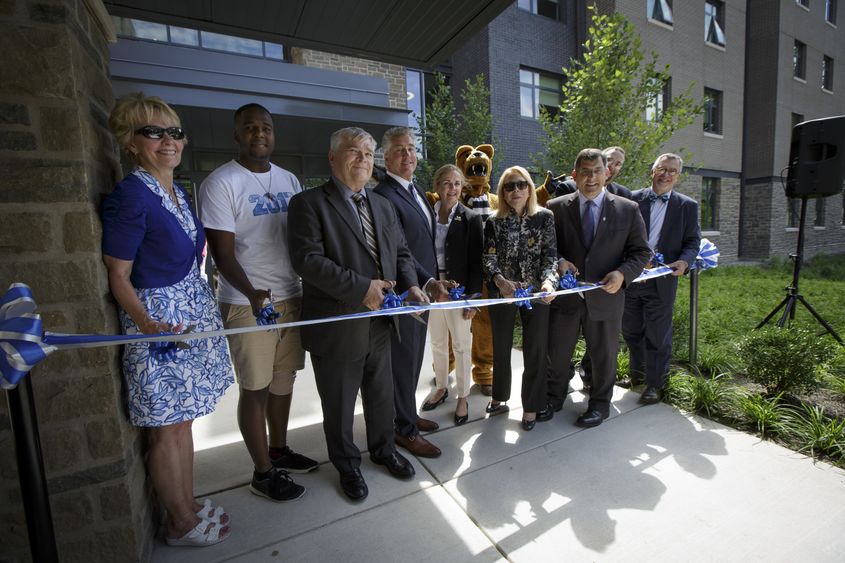 ABINGTON, Pa. — Penn State Abington Chancellor Damian J. Fernandez was joined by University President Eric J. Barron, Board of Trustees Chair Mark H. Dambly, and Madlyn Hanes, vice president for Commonwealth Campuses and executive chancellor, to officially open the first residence hall at Abington, on Aug. 23.
Students, faculty and staff represented the campus and, along with local elected officials and others from throughout the University, celebrated at the Lions Gate Apartment Community. 
Fernandez told the audience that the building is more than bricks and mortar.
"Lions Gate represents the architecture of possibility, the gateway to living and learning in a global research university, an entry point into a world of opportunities," he said. "These students come together as strangers and will eventually leave Abington as Penn Staters, a community of lifelong friends empowered to make the world a better place."
Nicholas Worrell represented the first group of resident assistants (RAs) at the Lions Gate. He said the training and mentoring the RAs received was life-changing.
"I grew to understand more about how my actions as an RA will impact the community I am trying to create here ... I learned about what I wanted for myself and my community," he said.
The Lions Gate was built to house up to 402 students in four- and six-bedroom units complete with kitchens. Its residents arrived from 13 countries and 15 states. 
Penn State Abington, formerly the Ogontz campus, offers baccalaureate degrees in 18 majors at its suburban location just north of Philadelphia. Nearly half of our 4,000 students complete all four years at Abington, with opportunities in undergraduate research, the Schreyer honors program, NCAA Division III athletics, and more. Students can start the first two years of more than 160 Penn State majors at Abington and complete their degrees at University Park or another campus.