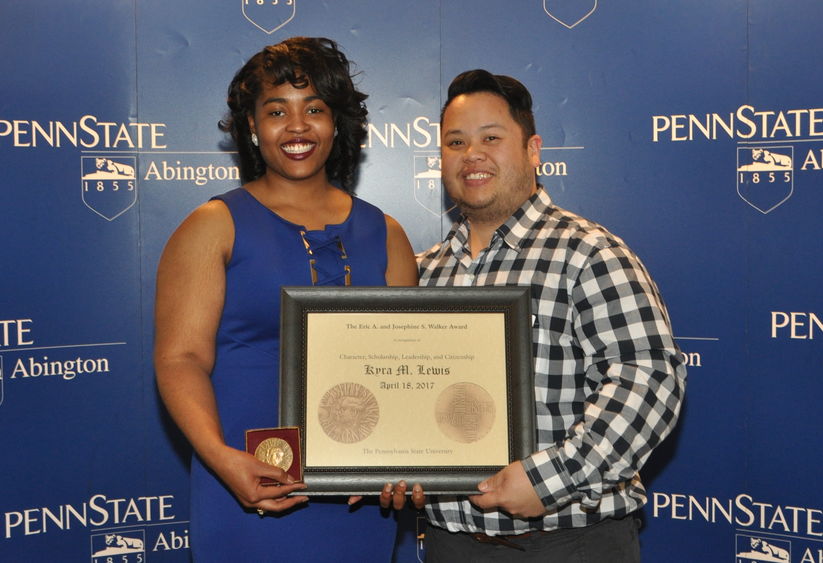 Penn State Abington honored students at its annual Awards and Leadership Reception with families, friends, and other supporters in the audience. 
The Freshman Award is given to students who have achieved a 4.0 cumulative grade point average in their first semester at Penn State: Moshe Adika, Ahmad Ali, Michael Armstrong, Nicholas Bakker, Taylor Campbell, Ying Cheng, Jielin Deng, Paige Eberly, Marcel Espinal Vicioso, Alyssa Garbin, Samantha Goetz, Alyssa Herman, Phillip Ho, Joseph Koestler, Emily Lanzetta, Jacky Lin, Michael Litz, Yuzhen Liu, Xueyi Luo, Natalie Martino, Rashmi Naik, Liliya Sadykova, Elizabeth Shkodnik, Kevin Sykes Floriana Tulli, Conger Wang, Yongkang Wang, Runyuan Wu and Xiaoling Zhu.
The Sparks Award is given to sophomores who have maintained a 4.0 cumulative grade point average at the end of their third semester: Cassidy Adams, Kathryn Fennessey, Rachel Katz, Matthew Koval-Kalokoh, Jamie Madison, and Bridget Welsh.
Evan Pugh Scholars: Juniors and seniors who are in the upper 0.5 percent of their respective classes at the end of their fifth semester and beyond:  Jennifer A'Harrah, Andrew Chudnovsky, Kathryn Coppola, Jeffrey Heilman, Qiaoyi Hou, Jacqueline Lanning, Hyunseung Lee, Jaein Lee, Kateryna Popluzhna, Mathew Shetler, Nancy Venter and Kristen Wolfgang.
Penn State Abington Honors Program: Students who have maintained a 3.3 cumulative average in a curriculum over four semesters while enrolled in honors courses, participating in research and leadership activities, and working with professors on independent study: Ryan Brooks, Andrew Chudnovsky, Nicollete DiPasquale, Simone Fisher, Megan Glanz, Kaitlyn Hunt, Benjamin Jennings, Sara Jennings, Rachel Katz, Angela Kelly, Faye Ko, Igor Kobzarenko, James Link, Ming Sheng Lu, Jamie Madison, Lauren Mazur, Zachary Michaels, Samuel Milz, Rashmika Molligoda, Allison Musial, Dylan Palm, Maksim Pecherskiy, Andrew Pohl, Alexandra Ryan, Madison Stromswold, James Templeton, Carolyn Ton, Nancy Venter, Bridget Welsh and Kristen Wolfgang.
Division of Arts and Humanities Awards
Bertha Lear Art Exhibition Awards
Lear Award for Depth of Content: Gigi Fleurentin
Lear Award for Experimentation Across Media: Patricia Grow
Lear Award for Excellence in Media Focus: Mariya Vasiloski
Lear Purchase Award for Exemplary Achievement: Angelique Kopacz

Lear Honorable Mention: Ashaundei Smith
Singer Endowment for excellence in black and white photography: Joanna Nawn
Beverley Wright McHugh Award for English: Teressa Ruiz
Michael T. Plam Memorial Prize for History: Michael Cadigan
Division of Social Sciences Awards
BB&T Bank Business Award: Tyler Hunt
Samuel J. DiRoberto Award for Business: Rachel Katz and Endiola Yzeiri 
Samuel J. DiRoberto Memorial Scholarship in Accounting: Samantha Amaro
Susan Lynne Keiser Scholarship for Business: Yessy The
The Louis C. Riggs Jr. Scholarship in Business: Justin Capece
Dr. Jeanne Smith Psychological and Social Sciences Award: Arianna Adrian
Division of Science and Engineering Awards
Anglescy-Todd Award for an Outstanding Engineering Student: Vitaliy Szdenko
Ayoub Mathematics Achievement Award and the Eleanor Wilson Award for Physics: Abdelmalak Omar
Dr. Robert A. Bernoff Award for women in science and engineering: Katherine Grinberg
Sanford F. Nicol Award for Engineering: Brianna Lengel-Klink and Yida Yuan
Outstanding Freshman Chemistry Student Award: Alyssa Garbin
David B. Peterson Jr. Memorial Award in science: Larissa Cheristin
The Lillian Rankin Science Award in agricultural sciences: Valerie Santangelo
Student Awards for Exemplary Leadership: Honors those who have been enthusiastic participants in their chosen endeavors on campus, have achieved academic success and substantial grade point averages, and exhibited numerous leadership qualities both on and off campus: Nelson Costa, Rena Kassak, Morgan Kelly, Ketul Patel, Diaka Thiam, and Matt Zipin
Student Diversity Awards: Honors students for their roles in exemplifying diversity, acceptance, understanding, and civility: Sayonnoh Kofa and Christi Renfer 
Eric A. and Josephine S. Walker Award: Recognizes an undergraduate enrolled at a commonwealth location whose outstanding qualities of character, scholarship, leadership, and citizenship have been directed into programs and services that have positively influenced fellow students and have contributed to the prestige and well-being of their campus, and, hence, to the reputation of the University as a whole: Kyra Lewis
Lewis served as an Orientation Leader for three years including as the head Orientation Leader. She is the founder and president of the Beauty Club, an organization that promotes beauty from within by recognizing the power of self-esteem and a body positive image.
"She has contributed to a culture at Abington that sees beauty in all, regardless of size, color, religion or any other defining factor that is used to label others," according to Gina Kaufman, director of Student Affairs.
+++++++++++++++++++++++++++++++++++++++++++++++++++++++++
Penn State Abington, formerly the Ogontz campus, offers baccalaureate degrees in 18 majors at its suburban location just north of Philadelphia. Nearly half of our 4,000 students complete all four years at Abington, with opportunities in undergraduate research, the Schreyer honors program, NCAA Division III athletics, and more. Students can start the first two years of more than 160 Penn State majors at Abington and complete their degree at University Park or another campus. Lions Gate, our first residence hall, will open in August