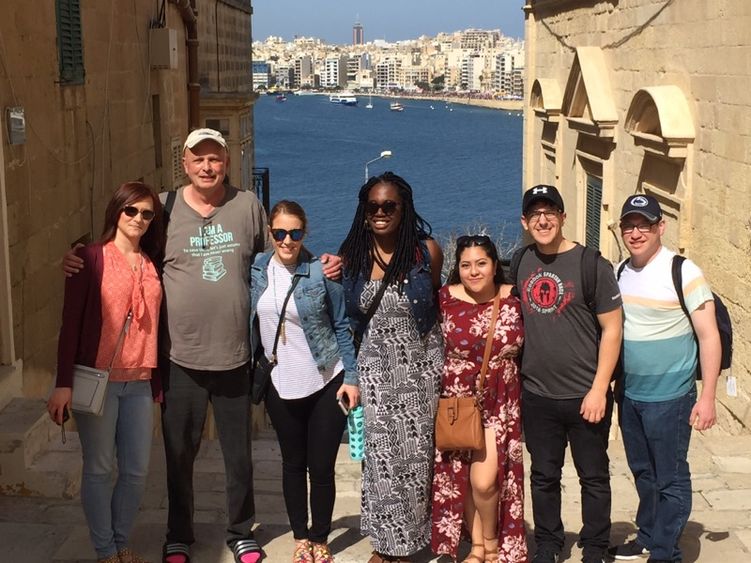 Penn State Abington students traveled to Malta, England, Ireland, South Dakota, and Delaware to study, perform service, and participate in an intense leadership retreat during spring break
Study Abroad
Abington students enrolled in courses with required short-term study abroad explored art, criminal justice, and business ethics in Ireland, England, and Malta. They immersed themselves in the international community under the guidance of experience faculty and returned home with expanded academic and career options. Go to the Facebook album to see more images from Study Abroad Spring 2016.
Malta
Business Ethics and Society: A Global Perspective course illuminates the importance of culture in determining ethics, which will prove valuable to students as they embark on their careers.
The group traveled to Malta, which is located at a strategic point between Europe, Africa, and Asia. Its diverse culture is home to substantial differences from the American view of ethical behavior.
Faculty member Steven McMillan spent almost six month on Malta as a Fulbright scholar so his contacts and familiarity with the island nation enhanced the student experience. Gina Kaufman, director of Student Affairs at Abington, accompanied the group, too.
Ireland
Representing Place, Exploring the Visual Arts in Ireland explores the creation of art in response to the beauty of Ireland's physical landscape and its rich cultural landscape and tradition in the dramatic, literary and visual arts. Two Abington faculty, Bonnie Levinthal and H. John Thompson, were joined at various times by Irish artists and writers.
Students lived and worked in Ballycastle, County Mayo, home of the distinguished Ballinglen Arts Foundation. While in Dublin students had the opportunity to visit Irish artist's studios, art galleries and museums.
England
Abington students enrolled in CRIMJ499 focus on a body of scholarship addressing critical issues, policies, and complexities of the criminal justice systems in the United States and the United Kingdom. And what better way to compare and contrast the two than traveling to England and experiencing it for themselves?
Lisa Morris, senior instructor in criminal justice, has taught this course for several years and has strong relationships with her colleagues in England. As a result, Morris' students benefited from established connections. Bryan Polk, senior lecturer in religious studies and English, accompanied the group. He, too, has taken Abington students on multiple study abroad programs.
Service in South Dakota
Ten Penn State Abington students spent spring break on the Pine Ridge Indian Reservation in South Dakota, one of the poorest locations in the United States. The unemployment rate hovers close to 90 percent, and life expectancy is the lowest in the country.
The Alternative Spring Break students, accompanied by Abington Assistant Director of Student Life Tracy Reed, shared their story on Facebook as they insulated cabins, collected firewood, and pumped water by hand. 
Leadership in Delaware
Abington students who attended the Diversity Leadership Retreat spent 12-hour days growing their leadership skills and exploring their understanding of diversity in Rehoboth Beach, Delaware.
The students were challenged through various activities to look deeper within themselves and build connections from their experiences to what has happened and is happening today. The activities varied from exploring individuality, group dynamics, identity to social justice, ethics and communication.
++++++++++++++++++++++++++++++++++++++++++++++++++++++
Penn State Abington, formerly the Ogontz campus, offers baccalaureate degrees in 18 majors at its suburban location just north of Philadelphia. Nearly half of our 4,000 students complete all four years at Abington, with opportunities in undergraduate research, the Schreyer honors program, NCAA Division III athletics, and more. Students can start the first two years of more than 160 Penn State majors at Abington and complete their degree at University Park or another campus. Lions Gate, our first residence hall, will open in August.