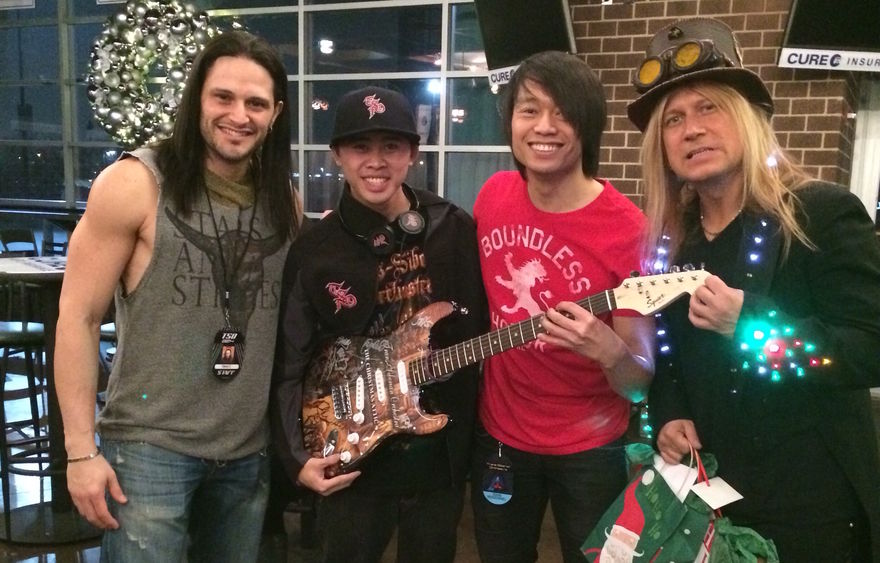 ABINGTON, Pa. — Penn State business graduate Chris Trinh is the literal man with a plan for his future. As a student, he was a tireless photographer for Penn State Abington sports teams, a dedicated student, and heavily involved in student activities.
He graduated in December, but one can easily find him on campus wearing his trademark Abington athletics jacket, carrying a camera, and shooting games for athletics. He can be spotted, too, sitting in the front row of an upper-level entrepreneurship course.
All of this Chris does and has done in pursuit of his goal: to be a professional photographer for Getty Images, the international provider of stock images, or for his friends in the Trans-Siberian Orchestra rock band.
The plot of each person's Abington story is different and Chris, low-key with a broad smile, shared a few chapters of his story recently.
Question: You've been involved in Abington athletics in many roles. How did that come about?
Chris Trinh: I took photos for most of the lacrosse games, and Noelle Powell (assistant athletic director and women's lacrosse coach) saw my determination and passion for athletics and photography. She asked me to manage the women's lacrosse team the following season, and I was her intern last spring as well as the team's manager. We had a great connection from the start.
Question: Is there an Abington faculty member who served as a mentor?
Chris: John Pachence (lecturer in music and integrative arts). I enrolled in John's class my first semester. I was always interested in music and the history of bands and artists, but John took my interests to another level. Over the years, I took his History of Rock & Roll, beginner and one-on-one guitar, and Music Business classes.
John knows that I want to take photos for the entertainment and sports industries, and he helps me with his connections.
Question: Outside of athletics, student life at Abington played a large part in your experience.
Chris: I was involved with the entertainment and programming board, THON for designs for shirts or photos, working with Lion Ambassadors, and working the front desk in the Lares Union Building.
Question: How did your relationship evolve with the Trans-Siberian Orchestra (TSO)?
Chris: I started going to see TSO in 2010 with my family. After every show, they have a meet and greet, and I have been going to those for about five years. They remembered me since the first time we met. 
I have worked very closely with their violinist, Roddy Chong, who toured with Shania Twain and Celine Dion. He tells every one that I am his 'Little Brother.' I have grown close and have a good relationship with most of the band members.
Question: What kind of work do you do with TSO?
Chris: I have been taking photos for them for five years. They have shared and marketed my photos all over their social media. For the past three years, I have designed a skin for a guitar to get signed by them. Bringing in a guitar with a custom skin on it left a big impression.
When the last tour ended, the tour manager wanted my contact information and said he wants both my jacket and guitar designs. It's been an unbelievable crazy ride with TSO and having my dreams come true.
Question: What advice would you offer to students?
Chris: Your education comes first. Go to every class. Time management is key.
Question: What are the big lessons you learned in college? 
Chris: I learned to give back through THON and the Lion Ambassadors. Athletics taught me that I don't have to play to be involved in sports. And the TSO members taught me so many life lessons over the years. Each organization has helped me differently along the way. I will always cherish these moments and apply them to everything I do in life. 
Penn State Abington, formerly the Ogontz campus, offers baccalaureate degrees in 18 majors at its suburban location just north of Philadelphia. Nearly half of our 4,000 students complete all four years at Abington, with opportunities in undergraduate research, the Schreyer honors program, NCAA Division III athletics, and more. The Lions Gate residence hall will open in August.