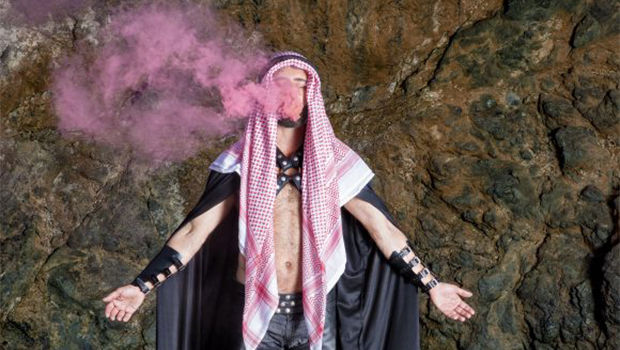 ABINGTON, Pa. — Acclaimed curator Jordan Rockford spoke to the Penn State Abington community recently about "Where We Find Ourselves," the multi-artist exhibition he conceived that graces the Woodland Gallery through Feb. 26.
According to Rockford, "Where We Find Ourselves" is about exploring queer identity and how culture can influence it. He highlighted pieces in the exhibit, but his talk was primarily devoted to his own journey toward discovering his mission as a curator. Rockford spoke about what inspired him, from TV shows he watched growing up such as "He-Man & the Masters of the Universe" and "Doctor Who" to his background in photography.
The exhibition includes one of a series of photographs by Chad States that document cruising spaces where men gather for anonymous sex. This series explores a theme States portrays often in his art, how public spaces can contain something secret and intimate, as well as the general population's unawareness of what goes on right under their noses.
Another piece, Tuesday Smillie's "The Right Brain of Darkness," celebrates Ursula Le Guin's science fiction novel "The Left Hand of Darkness." In the novel, Le Guin paints a picture of a world full of androgynous humanoid life whose fluid sexual characteristics can be changed depending on romantic interactions. The 1969 novel is often viewed as pioneering transgender feminism.
Perhaps the centerpiece of the exhibition, "Smoke" by Jamil Hellu, consists of two images superimposed upon one another. In one, a bearded man is wearing the traditional white robe and red and white keffiyah, or head covering worn by Arab men. However, as one changes one's perspective, the image shifts to a man wearing the same head covering, but shirtless, with a black cape, black leather pants, and wrist guards. The artist created this to represent his struggle for identity as both a Syrian man and a member of the LGBT community.
Rockford then spoke about his academic and professional career. He earned a bachelor's from the University of the Arts and performed postgraduate work at St. Andrew's University in Scotland. He has worked on Hidden City, an artistic project dedicated to utilizing old or abandoned historical sights. Rockford is an academic adviser at the University of the Arts, co-founder of the artist collaboration NAPOLEON, and curated the likes of Vuth Lyno and David Adika.
H. John Thompson, lecturer in art and art gallery director, said it was the first time he had invited an outside curator to conceive an exhibition.
The event was supported by the Penn State Abington College Faculty Senate Academic Environment Committee and the Penn State Abington Office of Student Life.
English major Kevin Kulesza writes for The Lion's Roar, the Penn State Abington student news site.