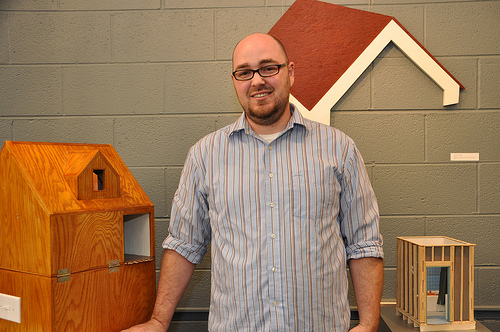 ABINGTON, Pa. — H. John Thompson (integrative arts, 2004) is an accomplished artist, and at Penn State Abington he — take a deep breath — teaches art, coordinates exhibitions and the woodshop, and serves as director of the campus' Woodland Art Gallery.
With the landmark show "Where We Find Ourselves" showing in the gallery, Thompson shared his thought process behind decisions affecting the gallery and his vision for the relationship between the exhibitions and the students who interact with pieces in the shows.
Question: Why is the gallery and associated programming important to Abington students?
Thompson: One of my biggest goals for the gallery and gallery programming is to demonstrate a wide range of approaches to artworks, content, and processes in which so many contemporary artists are working. The current exhibit "Where We Find Ourselves" not only exhibits works from a queer perspective, but also the show is the first time we've invited a guest curator. Bringing a curator on campus helps the students to understand a career in the arts that runs parallel to traditional studio art.
Q: What is the role of the curator?
Thompson: Curatorial practices coordinate and contextualize artworks and artists for many different types of audiences. Often, museum and gallery visitors are so focused on the artwork that they miss the larger voice that has put all these things together for us to consider.
Curator Jordan Rockford's talk about "Where We Find Ourselves" was especially inspiring as he spoke to the audience about how he learned who he was through the things he enjoyed, whether it was a book, a comic, a cartoon, or an exhibition. I think it helped our students understand how to find a curator's voice and, in turn, to understand exhibitions as a whole in a new way.
Q: Why bring such challenging work into the Woodland Gallery?
Thompson: There has to be a mix of things we enjoy and things that make us think. These two concepts are not mutually exclusive. Some work is not immediately or easily understood and asks us to think bigger.
I think this is the case of some of the works in the current show, including Jonathan Van Dyke's performance, 'Painters and Drag Queens.' It is a performative lecture that explores a history of painting alongside Jonathan's thoughts on queerness. For many this may have been a very new experience, seeing art in this way.
Q: There was a discussion after the curator talk by Jordan and the 'Painters and Drag Queens' performance by Jonathan. What was the outcome?
Thompson: The question-and-answer session was especially inspiring, as I think it helped the audience understand better what they had seen, which doesn't always happen at performances.
Many of our students had wonderful insight and inquiries and discussions including the nature of the art market and whether it should be divided into commercial and experimental markets or whether the art market can and should have messier boundaries.
In Rockford and Van Dyke, we were able to bring two very knowledgeable and inspiring people to campus and provide our students with an opportunity to speak with them and understand the way they think firsthand. This is an extremely important component of gallery programming, and it feels great to have the ability to bring a variety of people working in the arts, in ways we might not immediately understand.