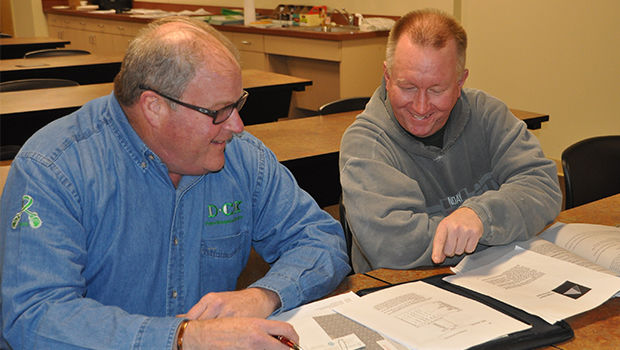 ABINGTON, Pa. — A labor union local may seem to have little in common with global pharmaceutical companies at first glance, but both share a need for certified project managers. The in-demand certification cuts across industries and job responsibilities due to its impact on workflow, efficiency, and financials.
That is why, one night a week for 28 weeks, project managers from pharmaceutical giants can be found teaching the discipline to members of the Steamfitters Local Union 420. The process is managed and accredited through the Penn State Abington Office of Continuing Education.
About a dozen men are enrolled in the program, which is comprised of four seven-week courses, at the union's headquarters in Northeast Philadelphia. Their ages and experiences vary, but they share goals: to improve financial results and to define and differentiate their personal career paths.
Pete Klein, director of training for Local 420, said it's an intense program but the investment makes sense.
"Members who enroll in the course have the opportunity to pursue a position as a project manager within the company where they are employed or to apply for that position with any of our more than 200 signatory contractors," Klein said. "This type of knowledge will enhance their employability and potentially lead to greater roles with any of our contractors."
The Abington faculty leading the coursework work demonstrate the versatility of the certification. Mike Osborne is senior manager for portfolio strategy and governance at Johnson & Johnson. And Penn State alumnus Michael Faia (MBA, 2011) leads the Project Management Office for Facilities, Maintenance, Engineering, and Validation at AstraZeneca.
"Project management will enhance their employability and potentially lead to greater roles with any of our contractors."

—Pete Klein, director of training, Steamfitters Local 420
Bert Max, the Abington Continuing Education representative who coordinates the union's coursework, said companies may contract for the certification courses exclusively for their employees, or individuals from different firms may enroll.
"Penn Community Bank recently selected its top performers for a project management boot camp," Max said. "They are people tagged for advancement at all levels of the company."
Penn State Abington, a Project Management Institute Registered Education Provider, offers all four courses required for the Project Management Certification:
Project Initiation and Planning: learn the process and the role of the project manager; communications and leadership; objectives, scope, and success criteria.
Project Scheduling and Integration: the work breakdown structure.  
Project Costing and Control: Understanding the project management discipline; creating a cost estimate and cost baseline; addressing project changes; project reporting; conducting lessons learned.
Project Risk and Management: risk identification; qualitative and quantitative risk analysis; ethics in project management.
A PM (Project Management) Professional Exam Preparation course is available through Abington for those ready to sit for the certification exam or those wanting a refresher course in the discipline.
The Steamfitters Local Union 420 in Northeast Philadelphia constructs, installs and maintains mechanical systems including Pennsylvania's gas line distribution system. Union members have worked on projects in the region such as the Sun Oil Refineries, Children's Hospital of Philadelphia, and stadiums for the Eagles, Phillies, and the Flyers and 76ers.
+++++++++++++++++++++++++++++++++++++++++++++++++++++++
Penn State Abington, formerly the Ogontz campus, offers baccalaureate degrees in 18 majors at its suburban location just north of Philadelphia. Nearly half of our 4,000 students complete all four years at Abington, with opportunities in undergraduate research, the Schreyer honors program, NCAA Division III athletics, and more. The Lions Gate residence hall will open in August.