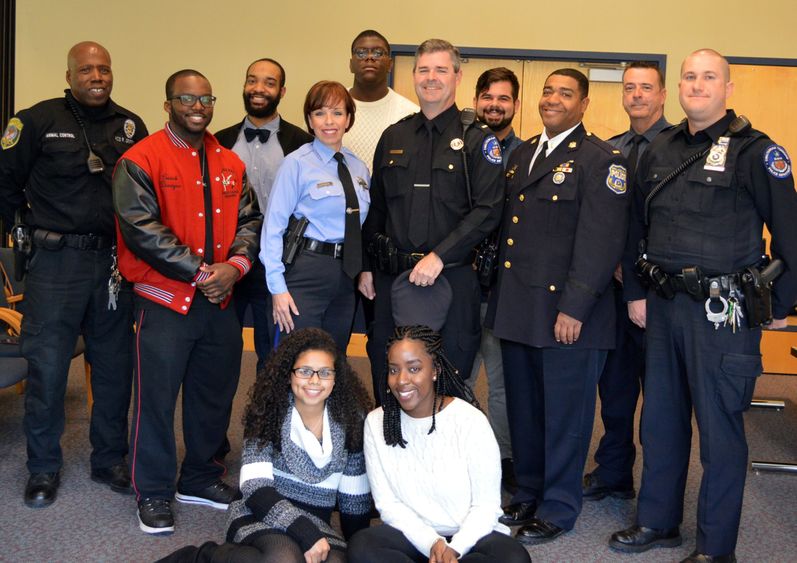 The Penn State Abington Black Student Union hosted its second social justice dialogue with area police officers. 
Penn State Abington students had a necessary conversation -- a conversation between students and police officers about officer/citizen conduct, protocols, and the controversial events that appear in the media.
A student opened the discussion by reading a poem, "A Black Man or a Cop, Doesn't Even Matter." Officers from the Philadelphia, Abington, and Cheltenham police departments answered questions about traffic stops, officer training and the recent officer/citizen issues that often appear in the media.
Responses to questions differed between each officer, but at the heart of each answer was that respect is a critical component of each officer/citizen encounter.
"Respect should come from both sides of the table," Philadelphia police Lt. John Stanford said. "If an officer stops you then you should respect them, and they should respect you, too."
Christina O'Brien, Philadelphia police public information officer, encouraged students not to make judgements about incidents until complete information is available to the public.
"Initially, you are not getting all of the details. A few days later you may see that the story has changed because more information is coming to light," she said. "Wait for the full details to come out."
As the students and officers warmed up to each other, deeper questions started coming out. Questions about fear, race, and what both sides could do to help each other during arduous times.
Stanford said that he sees issues from the perspective of a black male and of a police officer.
"Some of these incidents, I don't agree with as an officer. Are there training issues that need to be addressed? Are there departmental issues that need to be addressed? How specifically do we need to look at the individual themselves?" Stanford said. "We should look at these case by case instead of lumping them all together."
Penn State Abington students had a conversation today. Students and law enforcement officers came together to discuss difficult issues they face every day. Students expressed concerns for their well-being, their rights, and their futures. Officers did their best to sooth their worries.
Abington students and police officers opened the door today to frank and honest conversations.
Natalie Haggard, digital content intern in the Abington Office of University Relations, reported and wrote this story.
++++++++++++++++++++++++++++++++++++++++++++++++++++++
Penn State Abington, formerly the Ogontz campus, offers baccalaureate degrees in 18 majors at its suburban location just north of Philadelphia. Nearly half of our 4,000 students complete all four years at Abington, with opportunities in undergraduate research, the Schreyer honors program, NCAA Division III athletics, and more. The Lion's Gate residence hall will open in August 2017.