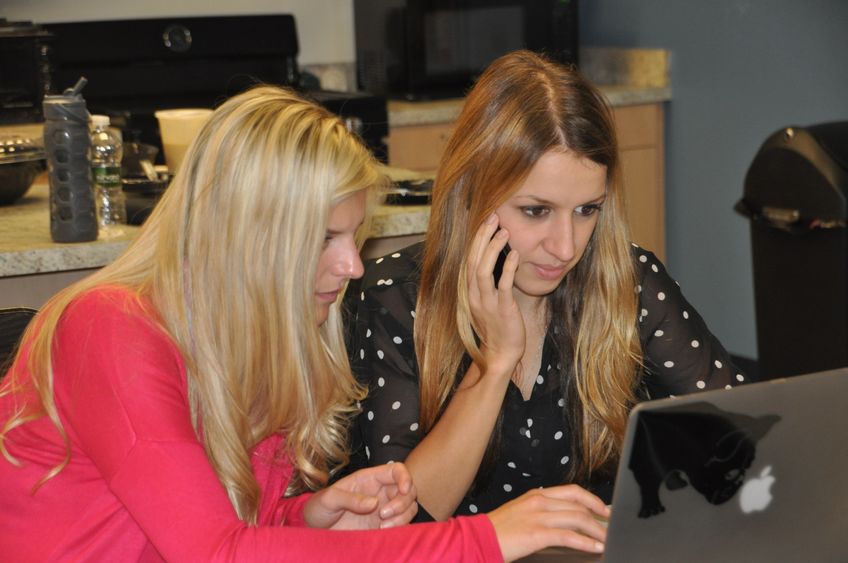 "It's uncanny how these plans align with way we are looking to grow our business."
"You came pretty close to the pin."
"The proposals have nuggets of things we are doing now."
What happens when your team's proposal receives this feedback from executives at a $46 billion company? The college students engaged in the annual Penn State Abington international business competition celebrated first. Then, they raced to update their resumes.
Twenty-three students from two American and one German university earned valuable experience recently offering Lockheed Martin (LM) solutions to a real business challenge: translating its products into new markets. LM is a global technology company and the world's largest defense contractor.
Patrick Ewing, a 1985 Penn State graduate and engineering director at Lockheed Martin who led the program, praised their work ethic and teamwork across cultures.
"We have students from three different universities in two different countries, and your teamwork was great," he said at the end of the four-day event. "Teamwork and managing diversity are critical throughout your career. If this is any indication, you will go far."
The faculty coaches formed six teams by purposefully intermingling students from each school: Abington; its German partner, Hof University of the Applied Sciences; and Kean University in New Jersey.
Then the clock started — only 72 hours from learning the nature of the challenge to final presentations.
Gary Calore, associate professor at Abington and the primary organizer, described this year's problem as "incredibly challenging and stimulating and the most complex presented in a competition so far."
The teams performed primary research at LM's site in Moorestown, N.J.,  gathering data and grilling the five mentors, who made themselves available to answer questions or provide additional information as needed.
The students hunkered down at the Penn State Center in Philadelphia and their downtown hotel over several days to complete their proposals and massage them into cogent presentations.
"Teamwork and managing diversity are critical throughout your career. If this is any indication, you will go far." Patrick Ewing '85, Lockheed Martin
On the final day, the students headed back to LM. The teams and the judges, eight LM executives and four faculty coaches, met in a high-tech auditorium — a situation in which students will likely find themselves in the future.
The presentations demonstrated that the students thought broadly about opening up new products and markets for LM. They identified specific markets of opportunity, competitors and collaborators, and evaluated trends. In addition, they considered cultural differences such as gender roles, economics, religious dominance, and education level/literacy rates in the suggested countries.
Senior Joshua Calderon, whose team won the spring 2016 Abington business competition, said it was a thrilling experience.
"It allowed us to envision a good marketing plan under real conditions and develop it from all aspects," he said.
Janie Saile, a senior student athlete, liked the close-to-real-world-conditions, which included working with people from other backgrounds.
"We had the opportunity to work on a specific idea on short time frame plus learning to work through any communication barriers with the German students," she said.
Calore, coordinator for Academic and Community Engagement and associate professor of philosophy, at Abington, praised the results.
"The teams all put their 'A' games together and didn't hold anything back," he said. "We have three universities and one company with different cultures and great diversity that worked together beautifully. Inclusion, diversity, and excellence were all on display."
Calore served as a faculty coach along with Dan Goldberg, lecturer in business at Abington; Maximillian Walter, professor of economics at Hof University; and Janine Black, management coordinator and assistant professor of management at Kean University.
What makes the Penn State Abington International Business Competition unique?
The organizers flip the typical business competition format in favor of a design that provides an international component while replicating the business environment: 
Faculty coaches intermingle German and American students on each team so they encounter varied experiences, cultures, and languages.
The students perform original research, making site visits to gather information instead of working from a case study.
The students must surmount cultural and communication hurdles within their teams en route to solving a challenge posed by the sponsoring company. The sponsor also provides a team of executives to volunteer as mentors throughout the process.
+++++++++++++++++++++++++++++++++++++++++++++++++++++++++++++++
Penn State Abington, formerly the Ogontz campus, offers baccalaureate degrees in 18 majors at its suburban location just north of Philadelphia. Nearly half of our 4,000 students complete all four years at Abington, with opportunities in undergraduate research, the Schreyer honors program, NCAA Division III athletics, and more. The Lion's Gate residence hall will open in August 2017.